 No Pets (Louis Theroux)
Louis Theroux doesn't have a pet dog or pets of any kind.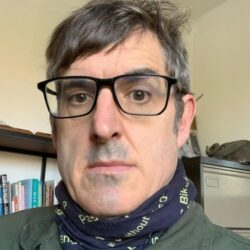 Birthday
May 20, 1970 (53)
Louis Theroux is a British-American documentary filmmaker and broadcaster best known for his investigative series that delve into the lives of various unconventional and often controversial figures and communities.
Throughout his career, Theroux has made a name for himself by creating a wide array of television series and documentaries. Notably, his series for the BBC, Louis Theroux's Weird Weekends, allowed him to immerse himself in the lives of peculiar subcultures across America, from UFO enthusiasts to professional wrestlers. His follow-up series, When Louis Met…, gave audiences intimate portraits of British celebrities, including Sir Jimmy Savile, Chris Eubank, and Keith Harris. Another hallmark of his career is Louis Theroux: LA Stories, where he explored different facets of life in Los Angeles, from the city's obsession with dogs to the harrowing tales of those living on the edge.
Theroux's unique approach to storytelling often involves embedding himself into the worlds of his subjects. Over the years, he has collaborated with a myriad of fascinating individuals. Among these are the infamous Westboro Baptist Church's Phelps family in The Most Hated Family in America, white supremacist leader Tom Metzger in Louis and the Nazis, and notorious criminal Joe Exotic in Louis Theroux: Beware of the Tiger. He's also delved into the world of the adult film industry with former performer JJ Michaels and even shared insights into the life of former gang member turned interventionist Ameil Joseph in City of Dogs.
The impact of Theroux's work has not gone unnoticed. He has been the recipient of several awards, including two BAFTA Television Awards for "Best Factual Series" and "Best Presenter." His knack for blending curiosity with empathy has also earned him the Richard Dimbleby Award for Best Presenter at the Royal Television Society Television Awards. Furthermore, his documentary Louis Theroux: A Place for Paedophiles received critical acclaim for its fearless approach to a challenging subject, highlighting Theroux's commitment to tackling difficult and controversial topics. Via his podcasts, he's interviewed celebrities such as Amelia Dimoldenberg, Shania Twain, FKA twigs, Sia, KSI, Helena Bonham Carter, and more.
Though Theroux's primary focus has been on the human experience, he has occasionally ventured into stories involving animals and their deep connections to humans. Notably, in Louis Theroux: LA Stories – City of Dogs, he explored the intricate relationship between Los Angeles residents and their canine companions. While not necessarily an advocate for animal rights in the same vein as some of his peers, his documentaries often highlight the bond between humans and animals, suggesting a deep respect for the natural world.