 No Pets (Sonequa Martin-Green)
Sonequa Martin-Green does not have any reported pets.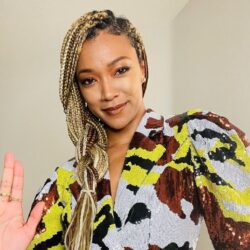 Birthday
March 21, 1985 (38)
Sonequa Martin-Green is an American actress who has carved a niche for herself in the world of television, particularly in the realm of science fiction. From her breakout role on "The Walking Dead" to her landmark casting as the first Black female lead in "Star Trek: Discovery."
Martin-Green's journey into the spotlight commenced with her debut in the NBC drama "Law & Order: Criminal Intent." Her career took a turn towards fame with her recurring role as Sasha Williams on AMC's "The Walking Dead," a character who quickly became a fan favorite. In 2017, she made television history as Michael Burnham in the "Star Trek: Discovery," becoming the first woman of color to lead a "Star Trek" series.
Over the years, Martin-Green has had the opportunity to collaborate with numerous accomplished actors and actresses, helping her develop and refine her skills. These individuals include, but are not limited to, Andrew Lincoln and Norman Reedus in "The Walking Dead," Jason Isaacs and Doug Jones in "Star Trek: Discovery," Phylicia Rashad in the film "Once Upon a Time…When We Were Colored," and Rob Corddry in the comedy-drama television series "The New Girl."
Her performance in "Star Trek: Discovery" earned her a Saturn Award for Best Actress on Television in 2019. She was also nominated for the NAACP Image Award for Outstanding Actress in a Drama Series, further affirming her talent. In addition, she won the Gracie Award for Actress in a Leading Role – Drama for her outstanding performance in the same series.