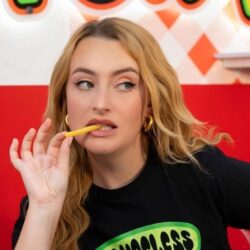 Birthday
January 30, 1994 (29)
Amelia Dimoldenberg is a British comedian, journalist, and YouTube personality primarily recognized for her unique and hilarious YouTube series Chicken Shop Date. Her distinct brand of humor and unique interviewing style has seen her carve a niche in the world of online comedy and entertainment.
Chicken Shop Date showcases Dimoldenberg engaging in interviews with celebrities while they share a meal in a fast-food chicken shop. The format, which mixes humor with candid questions, has attracted viewers worldwide, leading to the channel accumulating a significant subscriber count and view count on YouTube. Chicken Shop Dates' celebrity guests include Ed Sheeran, Rosalia, Jack Harlow, Charli XCX, Jennifer Lawrence, Shania Twain, Phoebe Bridgers, Sean Paul, Daniel Kaluuya, Keke Palmer, Lewis Capaldi, Louis Theroux, and many more.
Dimoldenberg has been honored with multiple awards in the online content and broadcasting arena. For instance, Chicken Shop Date was nominated for 'Best Entertainment Programme' at the Broadcast Digital Awards in 2019. Amelia herself bagged the 'Online Impact Award' at the UKAOP Digital Publishing Awards 2019 for her contribution to the digital space and her influence in reshaping how interviews are conducted.