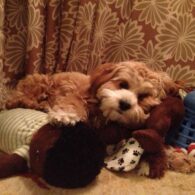 Cereal (Formerly Named Sia)
Sia's good friend and actor Ruby Rose gave her one of her dogs she couldn't look after due to too much traveling. The dog was also called Sia. To avoid people thinking she's crazy for having a dog with her name, she changed the dog's name to Cereal.
Sia Kate Isobelle Furler is an Australian singer, songwriter and music producer born December 18, 1975. Working in the music industry for over 20 years creating hit songs for herself and other popular singers, she has earned an estimated net worth of $20 million.
She started her musical career in the mid-90s, singing with bands and recording her debut album OnlySee in 1997 that only sold 1,200 copies. She then moved from Australia to London, where she collaborated with the downtempo group Zero 7 in 2001. Along with her own music, she also started working as a songwriter for other artists. These artists includes Christina Aguilera, Alicia Keys, Beyonce, Kylie Minogue and Rihanna. She has also found massive success as a solo artist, selling millions of albums and singles.
In 2014, Sia broke through as a solo recording artist when her sixth studio album, 1000 Forms of Fear, debuted at No. 1 in the U.S. Billboard 200 and generated the top-ten single "Chandelier" and a trilogy of music videos co-directed by Sia and starring child dancer Maddie Ziegler.
Sia is also an outspoken animal rights activist and vegan and has been quoted saying "I love dogs. I have dogs. I got dogs. I am a dog lover. I'm a dog lady dogging it up.". She has worked as an ambassador for PETA and other animal rights groups. She also holds dog adoption fairs at her concerts.