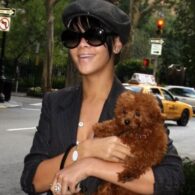 Rihanna
"Rihanna went to the bathroom, found a puppy, and decided to keep him". That was the headline for celebrity news articles around June 2015 when that literally happened. Famed actress, singer, model, posted the news on Snapchat and the Internet stalkers immediately lit up. That's one serious case of being at the right place at the right time. Now living a life of luxury, Rihanna's poodle Oliver, is found being carried from place to place, between photoshoots, or flying on private jets to her concerts.
Rihanna, born February 20, 1988 , is an Barbadian singer and songwriter. She released her first album in 2005 and is known for creating the popular hits as "Umbrella, "We Found Love" and "Diamonds." She signed with Def Jam records after meeting Jay-Z. Since then, she has managed to earn herself International fame and is loved by millions of fans.
She has worked with other popular artists such as Calvin Harris, and Sia.