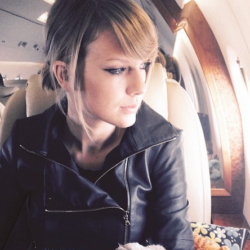 Birthday
December 13, 1989 (33)
Taylor Swift love cats and is arguably the most famous cat mom. And Swift's three cats Meredith Grey, Olivia Benson, and Benjamin Button are famous in their own right. The three cats are busy with casting calls, modeling contracts, and commercial appearances. She gained international fame with her music career and eventually got into acting (in the live-action movie Cats, of course.)
Swift is currently dating NFL player Travis Kelce.
Taylor Swift's Career
Taylor Swift, aka Swifty, aka Tay Tay, aka T-Swizzle, aka Tayla Swiff, aka Blondie, aka Miss Americana, aka The Music Industry, is one of the most popular pop music artists in the world. Her massively successful albums, concert tours, and sold-out shows have been headlining the news for over two decades. The commercial success is only matched by her critical acclaim with 10 Grammy Awards, 23 Billboard Music Awards, 19 American Music Awards and many more. She has sold over 100 million albums.
Swift is also one of the most highly followed artists on all social networks by her admittedly rabid fanbase. And, besides Taylor's long and successful career, her cats have ALSO held a spot on screen during their cameo for Ryan Reynolds' Deadpool 2.
Taylor Swift's Cats
Almost as astonishing as the success of her career are the lives of Taylor Swift's three cats: Meredith Grey, Olivia Benson, and Benjamin Button. With modeling contracts and film features, Taylor Swift's cats are arguably as famous as she is. In addition film roles, her cats also have contracts with Fujifilm, DirecTV, Diet Coke, and more large brands. Fans will also notice all three cats have in an appearance in Swift's "ME!" music video and are referenced in her song "Gorgeous".
Meredith and Olivia hold a competitive rank on the Pet Rich List with a net worth of $97 million each (yes, EACH). Taylor Swift's pets have done a heck of a job capitalizing on their fame, even trademarking each of their names for merchandise including clothing, housewares, accessories, luggage, toys and more! She also has two Dobermans, Baby and Bug, but they keep a much lower profile.
Taylor Swift Collaborations
Taylor Swift's collaborations includes amazing works with some of the most influential artists in the world. It's not just the artists featured in the music videos though, fans will noticed Taylor Swift's pets often making a cameo in her music videos.
Taylor Swift and John Mayer – Half of My Heart (2009): The song was recorded in 2009 as the third single of John Mayer's album, Battle Studies. In March of that year, John Mayer "tweeted" about wanting to record the song with Taylor Swift: ""Waking up to this song idea that won't leave my head. 3 days straight now. That means it's good enough to finish. It's called 'Half of My Heart' and I want to sing it with Taylor Swift. She would make a killer Stevie Nicks in contrast to my Tom Petty of a song." Taylor Swift answered the call and the duo produced the "Half of My Heart" which debuted at number 29 on the Billboard Hot Adult Top 40 Tracks. Listen to the Song.
Taylor Swift & Ed Sheeran – Everything Has Changed (2012): The song was written and recorded by Taylor Swift in 2012 featuring Ed Sheeran. "Everything Has Changed" was released as part of Swift's fourth studio album, Red (2012). The song peaked at number 32 on the US Billboard Hot 100 and was certified double platinum by the Recording Industry Association of America (RIAA). Listen to the Song.
Taylor Swift & Lana Del Rey – Snow On The Beach (2022): A song by Taylor Swift featuring Lana Del Rey, "Snow on the Beach" was released as part of Swift's tenth album. The song peaked at number four on the US Billboard Hot 100 and also earned over 15 million plays in the first 4 hours on Spotify, becoming the biggest opening dat for a female collaboration on the platforms history. Listen to the Song.
Taylor Swift & Brendon Urie – ME! (2019): A collaboration between Taylor Swift and Brendon Urie of Panic! at the Disco, the song was released in April 2019 through Republic Records. The song debuted at number 100 on the US Billboard Hot 100 before reaching number two the following week. After the surge into the top 5 position, the song became the biggest single-week jump in the chart's history. The song also broke several records on Amazon Music, Spotify, and Apple Music.. Listen to the Song.
Taylor Swift & Shawn Mendes – Lover (Remix) (2019): "Lover" was originally released as part of Taylor Swift's seventh studio album. She later released three alternate versions of the song – a duet remix featuring Canadian singer Shawn Mendes, an orchestral remix based on Swift's performance at the 2019 American Music Awards subtitled "First Dance Remix", and a live version recorded at Swift's 2019 City of Lover concert. The remix with Shawn Mendes became nominated for Best Remix by iHeartRadio Music Awards and became honored as one of the 50 most-performed songs by the BMI Pop Awards. Listen to the Song.