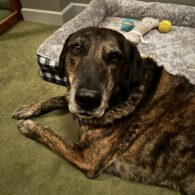 Ditto the Dog - Mondale from "Succession" and Radar from "Severance" (Dog)
Ditto is a dog actor that's best known for his role as Mondale on HBO's "Succession", where he plays Mondale, the dog of Tom (Matthew Macfadyen) and Shiv Roy (Sarah Snook). Ditto also has a role on Apple TV's "Severance", where he plays Radar, the dog of Irving (John Turturro). The photo of Ditto show here was shared by "Severance" director Ben Stiller on Twitter when he was impressed to find out Ditto was also on "Succession" but never mentioned it to him.
Working with #Ditto on #Severance for the first time since i found out he's Mondale on #Succession. I'm both starstruck and and a little hurt he didn't tell me before. I think he probably worried I'd ask him too many fan questions which he wouldn't be allowed to answer.

@BenStiller, Twitter, April 2023
Sarah Snook is an Australian actress who has made a name for herself in both film and television. She is best known for her starring role as Shiv Roy on the hit HBO series "Succession," for which she has received critical acclaim and numerous award nominations. Snook's notable film roles include her performance in the science-fiction thriller "Predestination" and her portrayal of Jane in the period drama "The Dressmaker". "Succession" also stars Nicholas Braun, Brian Cox, Kieran Culkin, Matthew Macfadyen, Alan Ruck, Jeremy Strong, James Cromwell, and Dagmara Domińczyk.
Throughout her career, Snook has worked with several notable artists, actors, and filmmakers. She appeared alongside Michael Fassbender, Seth Rogen, and Kate Winslet in "Steve Jobs" and worked with Ethan Hawke in the science-fiction thriller "Predestination." She also starred in the independent film "Not Suitable for Children" alongside Ryan Kwanten and has worked with Australian director Peter Weir on the film "The Way Back."
In addition to her impressive acting career, Snook has received several notable accolades for her work. She was nominated for an AACTA Award for Best Lead Actress for her role in "The Dressmaker" and received a nomination for Best Supporting Actress at the AACTA Awards for her performance in "Predestination." She has also been nominated for multiple awards for her work on "Succession," including a Primetime Emmy Award for Outstanding Supporting Actress in a Drama Series.