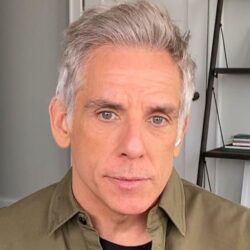 Birthday
November 30, 1965 (58)
Ben Stiller is an American actor, comedian, producer, film director, and screenwriter. He is the son of the comedians and actors Jerry Stiller and Anne Meara.
After beginning his acting career with a play, Stiller wrote several mockumentaries and was offered his own show, titled The Ben Stiller Show, which he produced and hosted for its 13-episode run. Having previously acted in television, he began acting in films. He made his directorial debut with Reality Bites. Throughout his career he has written, starred in, directed, or produced more than 50 films including The Secret Life of Walter Mitty, Zoolander, The Cable Guy, There's Something About Mary, the Meet the Parents trilogy, DodgeBall, Tropic Thunder, the Madagascar series, and the Night at the Museum trilogy. He has also made numerous cameos in music videos, television shows, and films.
In May 2000, Stiller married actress Christine Taylor at an oceanfront ceremony in Kauai, Hawaii. They met in 1999, while filming a never-broadcast television pilot for the Fox Broadcasting network called Heat Vision and Jack. The two have a daughter together named Ella Olivia Stiller.
Ben Stiller's journey through Hollywood is marked by a series of remarkable collaborations with industry. One of the earliest significant collaborations came when he worked with Jim Carrey in The Cable Guy, in which Stiller not only acted but also took on the directorial reins. Stiller's collaborations with the iconic Robert De Niro in the wildly successful Meet the Parents series is another feather in his cap. A perfect example of his knack for ensemble comedy can be seen in DodgeBall: A True Underdog Story, where he shared the screen with Vince Vaughn, creating an on-screen rivalry that kept audiences entertained. Stiller's collaboration with Owen Wilson also holds a special place, notably their comic partnership in the Zoolander films, which showcased their perfect comic timing and shared sense of humor. Working with director Noah Baumbach in The Meyerowitz Stories displayed a different side of Stiller.