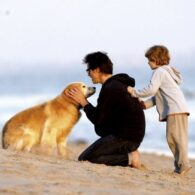 Two More Dogs
When interviewed by Nickelodeon Magazine, Jim Carrey mentioned he has three dogs. One is George, a great dane and we believe one is a golden retriever. If you know any info on them, please let us know! Sunrise and Squeek
Jim Carrey has two pet parakeets named Sunrise and Squeek.
Jim Carrey is a Canadian-American actor, comedian, writer, and producer. Known for his energetic slapstick performances, Carrey first gained recognition in 1990, after landing a recurring role in the American sketch comedy television series In Living Color (1990–1994). He broke out as a star in motion pictures with Ace Ventura: Pet Detective, The Mask and Dumb and Dumber (all 1994). This was followed up with Ace Ventura: When Nature Calls, Batman Forever (both 1995), and Liar Liar (1997).