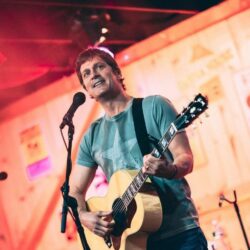 Birthday
February 14, 1972 (51)
Rob Thomas is best known as the lead vocalist of the multi-platinum selling band Matchbox Twenty, Thomas has also enjoyed a successful solo career, earning numerous accolades for his powerful vocals and songwriting skills. Alongside his musical achievements, Thomas has also been a prominent figure in the entertainment industry, collaborating with other artists and celebrities, and advocating for animal welfare.
Thomas rose to fame in the 1990s as the frontman of Matchbox Twenty, which became one of the most successful rock bands of the era. The band's debut album, "Yourself or Someone Like You," sold over 12 million copies in the United States alone, and spawned hit singles like "Push," "3AM," and "Real World." Thomas's distinctive voice and heartfelt lyrics became a hallmark of the band's sound, earning them a dedicated fanbase and critical acclaim.
In addition to his work with Matchbox Twenty, Thomas has also enjoyed a successful solo career, releasing several chart-topping albums and singles. His debut solo album, "Something to Be," debuted at number one on the Billboard 200 chart, and featured hit singles like "Lonely No More" and "This Is How a Heart Breaks." Thomas has also collaborated with a variety of other artists and celebrities, including Santana, Mick Jagger, and Taylor Swift, further expanding his musical repertoire and reaching new audiences.
Outside of his music career, Thomas has also been a passionate advocate for animal welfare. He and his wife Marisol Maldonado founded the Sidewalk Angels Foundation, a non-profit organization dedicated to providing aid and support to animals in need. The foundation supports a variety of causes, including animal rescue organizations, no-kill animal shelters, and animal-assisted therapy programs.
Thomas's love for animals is evident in his personal life as well, with his own pets often making appearances on his social media and during his concerts. He has also used his platform to raise awareness about animal cruelty and promote responsible pet ownership, and has been recognized for his advocacy work with awards like the Presidential Service Award and the ASPCA Compassion Award.