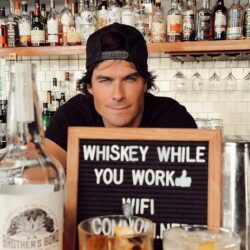 Birthday
December 8, 1978 (44)
Ian Somerhalder is an American actor, model, activist and director. He is known for playing Boone Carlyle in the TV drama Lost, Damon Salvatore in The CW's supernatural drama The Vampire Diaries and Dr. Luther Swann in Netflix's sci-fi horror series V Wars.
In October 2012, Somerhalder was cast in the film Time Framed, which had begun filming in Los Angeles. In April 2018, Somerhalder was cast in the role of Dr. Luther Swann as a series regular in the Netflix science fiction horror series V Wars. The series premiered on Netflix on December 5, 2019 and was cancelled in March 2020.
His pivotal role as Damon Salvatore in the hit television series "The Vampire Diaries" had him working closely with actors like Nina Dobrev and Paul Wesley, developing a compelling on-screen chemistry that was loved by audiences worldwide. On another front, he worked alongside Maggie Grace and Matthew Fox in the critically acclaimed series "Lost," where his portrayal of Boone Carlyle left a memorable impact. More recently, in the Netflix series "V Wars," Somerhalder showcased his directorial skills while also co-starring with actors such as Adrian Holmes and Laura Vandervoort.