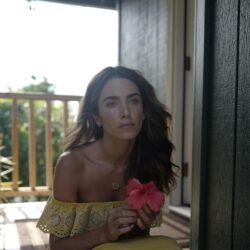 Birthday
May 17, 1988 (35)
Nikki Reed is a distinguished American actress and screenwriter, best known for her role as Rosalie Hale in the acclaimed "Twilight" film series. Born and raised in Los Angeles, California, Reed has become a recognized figure in the entertainment industry, establishing herself through powerful performances and versatile acting skills.
Reed's journey in the realm of acting began with the controversial drama "Thirteen" (2003), where she played a troubled teenager. Her raw and authentic portrayal of the character Evie Zamora not only co-wrote the screenplay but also won her critical acclaim, setting the stage for her future cinematic endeavors. However, it was her role as Rosalie Hale, a fierce and protective vampire in the "Twilight" saga (2008–2012), that catapulted her to international fame. Over the years, Reed has shown her versatility by appearing in diverse roles in television series such as "The O.C." (2006), "Sleepy Hollow" (2015–2016), and "Dollface" (2020–present).
In her career, Reed has collaborated with numerous industry figures, enriching her repertoire and contributing to her artistic growth. She worked with renowned directors like Catherine Hardwicke in "Thirteen" and "Twilight", and with actors such as Evan Rachel Wood, Holly Hunter, and Brady Corbet in "Thirteen". The "Twilight" saga brought her together with an ensemble cast that included Robert Pattinson, Kristen Stewart, Taylor Lautner, and Peter Facinelli, among others. In "The O.C.", she shared screen space with Benjamin McKenzie and Mischa Barton, while in "Sleepy Hollow" she teamed up with Tom Mison and Lyndie Greenwood. In the ongoing series "Dollface", she collaborates with Kat Dennings and Brenda Song.
Reed's contributions to the film and television industry have earned her numerous awards and recognition. She won the Independent Spirit Award for Best Debut Performance for her role in "Thirteen", an accolade that reflects her potent acting skills. Additionally, she, along with the ensemble cast of the "Twilight" saga, won the Best Fantasy Film at the Scream Awards in 2009 and 2010.
Outside of her acting career, Reed is also known for her deep commitment to animal advocacy. She uses her platform to raise awareness about animal welfare and supports several non-profit organizations. One of her prominent contributions was when she designed a limited-edition jewelry collection in collaboration with Freedom of Animals to benefit the ASPCA. Moreover, Reed and her husband, actor Ian Somerhalder, have created the Ian Somerhalder Foundation, which, among other objectives, aims to educate people about responsible pet ownership and animal rights.