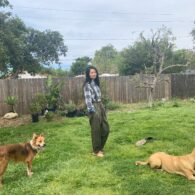 Taco and Rooster (Dog)
In a 2021 interview with The Atlantic, Chloé Zhao revealed she has two dogs named Taco and Rooster. Taco was eight years old and Rooster was three at the time.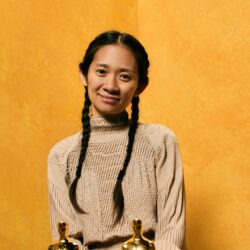 Birthday
March 31, 1982 (41)
Chloé Zhao is a distinctive filmmaker, widely recognized for her ability to intertwine the poetic with the realist in the cinematic landscape.
Zhao's foray into the world of cinema has been a bouquet of heartfelt narratives, with films like "Songs My Brothers Taught Me" (2015) and "The Rider" (2017) laying the foundation of her cinematic journey. However, it was "Nomadland" (2020) that catapulted her into the limelight, depicting the life of van dwellers in the American west. This film not only resonated with audiences but also critically acclaimed, paving the way for her venture into the marvel cinematic universe with "Eternals" (2021).
Throughout her career, Zhao has collaborated with a plethora of artists, technicians, and actors to craft her vision on the silver screen. Some of these collaborations include working with Frances McDormand, an acting powerhouse in "Nomadland," and linking arms with the ensemble cast of "Eternals" which comprises of Gemma Chan, Richard Madden, Kumail Nanjiani, Lia McHugh, Brian Tyree Henry, Lauren Ridloff, Barry Keoghan, Don Lee, Kit Harington, Salma Hayek, and Angelina Jolie.
Zhao's trophy shelf includes but is not limited to, two Academy Awards for Best Director and Best Picture for "Nomadland," making her the first woman of color and second woman ever to win the Best Director category. Moreover, she bagged the Golden Globe Award for Best Director, making a substantial mark in the 78th Annual Golden Globe Awards.