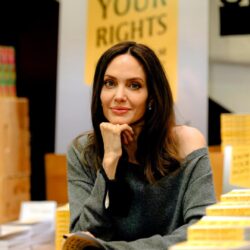 Birthday
June 4, 1975 (48)
Angelina Jolie Pitt is an American actress. As one of Hollywood's leading actresses for the last 20 years, she has earned an estimated net worth of $160 million. She has also been a critical success, winning one Oscar, two Screen Actors Guild Awards and three Golden Globe Awards. Daughter of actor Jon Voight, her first role was alongside him in Lookin' to Get Out (1982). Her first leading role was in the 1995 film Hackers, which was followed up by leading dramatic roles in George Wallace and Gia. Next came her 1999 role in Girl, Interrupted which won her an Academy Award for Best Supporting Actress.
2001 one is when she became recognized as a leading actress in Hollywood, thanks to starring in the blockbuster film Lara Croft: Tomb Raider. This also made her a leading female action movie star, which led to the big budget films through the 2000s, including Mr & Mrs Smith, Wanted and Salt. in the late 2000s/early 2010s, she moved back to dramatic roles, including A Mighty Heart, Changeling and Unbroken.
Jolie is also well-known for her humanitarian work. After filming in Cambodia for Tomb Raider and seeing the help many people there needed, she got in touch with the United Nations High Commissioner for Refugees (UNHCR). She has since went on over 40 field missions and spent large amounts of her time helping and promoting humanitarian causes. Along with becoming an UNHCR and UN Goodwill Ambassador, she has donated millions personally to help and established her own foundation to help refugees, children and women in need. She is also known for her public relationship with Brad Pitt which earned them the nickname "Brangelina". They started seeing each other in 2005 and ended with divorce in late 2016. She has three children with Brad, along with three adopted children.