 Mindy (Dog)
Sue Bird does not have any reported pets as of 2023. She mentioned in a past interview that she grew up with a Beagle Mix named Mindy. Due to her travels requirements, she felt it wasn't fair to adopt a puppy but we're sure there will be one in her life one day.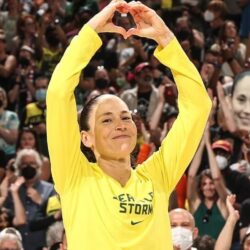 Birthday
October 16, 1980 (43)
Sue Bird, a revered name in the world of basketball, has etched her legacy into the sport with remarkable skill, tenacity, and leadership. Over the course of her career, Bird has competed at the highest levels of play in the Women's National Basketball Association (WNBA) and internationally, earning a reputation as one of the greatest point guards ever to step onto the court. Known for her unparalleled vision and precision, Bird's impact on the game transcends her on-court accomplishments, extending into her off-court advocacy for gender equality and LGBTQ+ rights.
In the sphere of professional basketball, Sue Bird has achieved an incredible amount. As a standout player at the University of Connecticut, Bird won two NCAA Championships, laying the foundation for an illustrious professional career. Drafted first overall by the Seattle Storm in the 2002 WNBA Draft, Bird led the team to four WNBA Championships, in 2004, 2010, 2018, and 2020. Her exceptional play in these pivotal games secured her legacy as one of the most clutch performers in the league's history. Moreover, her performances on the international stage have been nothing short of stellar. As part of Team USA, Bird is a five-time Olympic gold medalist, making her one of the most decorated athletes in the history of women's basketball.
Bird's collaborations and connections with other figures in sports and beyond paint a portrait of an athlete deeply engaged with her community and peers. On the court, her relationship with teammate and fellow superstar Lauren Jackson was instrumental in delivering the Storm's first two championships. Off the court, she has been vocal in her support of her peers, such as Megan Rapinoe, a soccer player and advocate for social justice, whom Bird is engaged to. Furthermore, Bird's influence extends beyond the realm of sports; she's worked with figures such as former First Lady Michelle Obama on her voter registration initiative, and with Breanna Stewart, Diana Taurasi, and other WNBA players in the creation of the "Say Her Name" campaign to raise awareness about social justice issues.
When it comes to awards and distinctions, Sue Bird's trophy cabinet is overflowing. She is a twelve-time WNBA All-Star and was named to the All-WNBA First Team five times. Internationally, Bird is recognized as one of the greatest American basketball players, with five Olympic gold medals to her name. Moreover, she was selected to the WNBA's Top 15 Players of All Time in 2011 and Top 20@20 list in 2016, solidifying her place in the annals of the league's history.