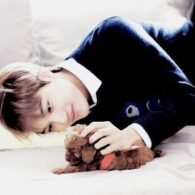 Monggu
Kai has a notable affinity for dogs, evident from his trio of canines. Monggu, the eldest brown poodle in his pet entourage, serves as the muse behind the name of the coffee shop managed by Kai's sister, Kamong Espresso. Fans of EXO, commonly known as EXO-Ls, will recall spotting Monggu in the 'Miracles in December' music video.
Kim Jong-in, better known as Kai, is an accomplished South Korean entertainer and member of the music groups EXO, SuperM, and EXO-CBX.
Starting his career in the limelight with EXO's debut in 2012, Kai soon gained widespread attention for his captivating performances. He was particularly acclaimed for his role in the song "Growl," which became a nationwide hit. Alongside his success in the music scene with EXO and SuperM, Kai has expanded his horizons into acting. He has taken on roles in TV dramas such as "Andante" and "The Miracle We Met."
Kai's career has been enriched through numerous collaborations with influential individuals across multiple domains. For instance, he has worked with renowned producers like Lee Soo-man and Teddy Park. Collaborating with fellow EXO members like Baekhyun, Chanyeol, and Suho has brought synergistic performances to life. In SuperM, he has shared the stage with Taemin, Taeyong, Mark, Ten, Lucas, and Baekhyun. His collaborations are not limited to just musicians and producers. He's worked with choreographers like Shim Jae-won, and even ventured into the fashion industry, partnering with global brands and figures such as Gucci and Kim Jones.
Kai has received numerous awards and titles, affirming his impact on the global entertainment scene. Among his achievements are the Melon Music Award for Best Dance Male in 2016 for his work on the album "Exodus," as well as clinching the Fashionista Award at the 2016 Asia Artist Awards. In 2020, Kai was even featured on Forbes' "30 Under 30 Asia" list.