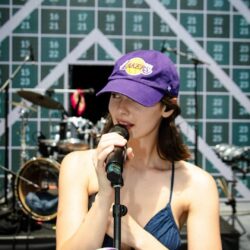 Birthday
September 7, 1999 (24)
Gracie Abrams is an American singer and songwriter . After signing with Interscope Records, she released her debut EP, Minor, in July 2020. Her second EP, This Is What It Feels Like, was released in November 2021. Her two singles, "Feels Like" and "Rockland", were high hugely successful. In 2022, Gracie began touring with Olivia Rodrigo as the supporting act for her Sour Tour.
Her musical journey has been characterized by a sequence of powerful releases that resonate deeply with audiences. Her debut project, "minor," was a compilation of seven emotionally charged songs that effortlessly blend indie-pop with soulful vulnerability. The project revealed the raw talent Gracie possesses, presenting it to the world in a manner that's deeply relatable. Her 2020 EP, "This Is What It Feels Like," continued in the same vein.
She has notably collaborated with a diverse range of musicians and songwriters, including Sarah Aarons, who co-wrote Zedd's "The Middle," and Joel Little, known for his work with Lorde. Others in her collaboration portfolio are Justin Tranter, Julia Michaels, Blake Slatkin, Semisonic's Dan Wilson, Caroline Pennell, Michael Matosic, and Kennedi Lykken. She has also performed on late-night television shows such as Jimmy Kimmel Live!