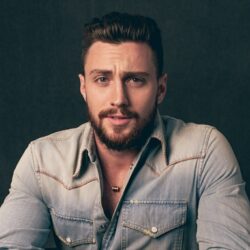 Birthday
June 13 1990 (33)
Aaron Taylor-Johnson is an English actor. He is best known for his portrayal of the title character in Kick-Ass (2010) and its 2013 sequel, and the Marvel Comics character Pietro Maximoff in Avengers: Age of Ultron (2015). Taylor-Johnson began performing at age six and has appeared in such films as Shanghai Knights (2003), The Illusionist (2006), The Thief Lord (2006), and Angus, Thongs and Perfect Snogging (2008).
For his performance as psychopathic drifter Ray Marcus in Tom Ford's thriller Nocturnal Animals (2016), he won the Golden Globe Award for Best Supporting Actor and was nominated for the BAFTA Award for Best Actor in a Supporting Role. Taylor-Johnson later starred as military commander Ives in Christopher Nolan's spy action epic Tenet (2020). He will portray another Marvel character, Kraven the Hunter, in a 2023 standalone film as part of the Sony's Spider-Man Universe.
In terms of collaborations, Taylor-Johnson has been fortunate to share the screen with some of the industry's best talents. Working alongside Chloë Grace Moretz and Nicolas Cage in "Kick-Ass," he was introduced to mainstream Hollywood. In "Nowhere Boy," he collaborated with Kristin Scott Thomas and Anne-Marie Duff. He later teamed up with Elizabeth Olsen and Bryan Cranston in the reboot of "Godzilla." His performance in "Nocturnal Animals" was heightened by acting opposite Amy Adams and Jake Gyllenhaal. Taylor-Johnson also appeared with Chris Pine in "Outlaw King," and worked alongside John Cena in "The Wall." Not to forget, his roles in ensemble casts like "Avengers: Age of Ultron," which featured Robert Downey Jr., Chris Evans, Scarlett Johansson, and Mark Ruffalo, among others.
Aaron Taylor-Johnson has not only captivated audiences but also earned recognition from the film industry. He won a Golden Globe Award for Best Supporting Actor for his performance in "Nocturnal Animals." His role in "Nowhere Boy" also earned him a nomination for the BAFTA Rising Star Award and the British Independent Film Award for Best Actor.