Atticus
Jake Gyllenhaal's other dog is a German Shepherd named Atticus, which also comes from To Kill a Mockingbird. We know dogs love their balls. But Gyllenhaal might have taken that sentiment just a little too far. When the actor got his 7-year-old dog neutered in 2021 he decided to really consider how his dog's self-image might be. On The Tonight Show Starring Jimmy Fallon, Gyllenhaal revealed his German Shepherd now has 'neuticles' which are testicle prosthetics for neutered dogs. Amazingly, they have been around since 1995 according to their website. Oh, and he ended up picking the 'gorilla-sized' ones. Go big or go home, we guess!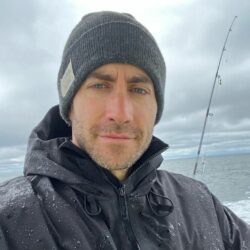 Birthday
December 19, 1980 (42)
Jacob Benjamin Gyllenhaal is better known as Jake Gyllenhaal. Some say he's an animal rights activist after his role as the zoologist Dr Johnny in Bong Joon-ho's Okja. He gained fame following his performance in Nightcrawler, for which he's performance earned him a nomination for the Golden Globe Award for Best Actor. He has been nominated for an Academy Award, two Golden Globe Awards, three British Academy Film Awards, and three Screen Actors Guild Awards.
Gyllenhaal Family & Career
The Gyllenhaal family has a long history in Hollywood with his father director Stephen Gyllenhaal and mother screenwriter Naomi Foner. Gyllenhaal began acting as a child with a screen debut in City Slickers. His older sister is Maggie Gyllenhaal. Jake Gyllenhaal's breakthrough roles were in October Sky and Donnie Darko alongside Drew Barrymore, James Duval and Patrick Swayze.
Gyllenhaal has since reported regret for his role in Brokeback Mountain — not because it aligned him with LGBTQ2+ rights, but because he is a straight actor playing a queer role. The film had seen monumental success, winning 3 Oscars, and having a host of animal co-stars.
Jake Gyllenhaal's love for dogs and rescuing a puppy from traffic
Gyllenhaal is a big lover of dogs. He told W Magazine that training his dog was one of his "proudest moments", saying, "I love dogs. I just love them. They are so playful. I think they bring that out in us, if we allow it," he said in the video interview. "I don't think I'm that playful, generally. I need to be reminded of it. So, they remind me of that."
in 2019, Glyyenhaal saved a runaway Dalmatian puppy in New York City. The pup was lost in the middle of a busy intersection after escaping its owner, when Jake came to the rescue. He took charge, stopped traffic, calmly walked up to the pup, and led it back to its grateful owner.