While he's known for his tough guy movie roles, anyone who follows Arnold Schwarzenegger on Instagram knows he's a big softy for his furry friends. Millions were cheered up during the covid lockdowns by his videos playing, feeding, and hugging his mini horse and mini donkey.
Now Schwarzenegger has added a cute lil' piggy to his pet posse. He named the pig Schnelly, which comes from the German word "schnell", which means "fast".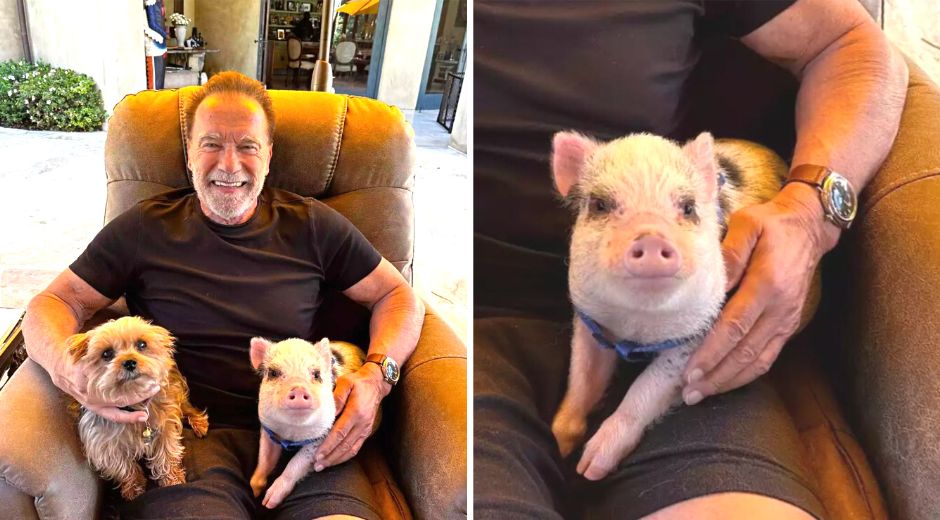 When we got home, she ran all over the property and we couldn't catch him. He's so schnell. So my girlfriend said, "Why don't we call him Schnelly?". But now he doesn't run away anymore, he's fantastic.

Arnold Schwarzenegger, @TheIssueIsShow, Twitter, April 2023
This is actually Schwarzenegger's second pet pig. Back in the mid-1990s was inspired by George Clooney and his iconic pet pig Max and got one for himself and named him Bacon.
I always liked that he was into pigs; he has this little pig that he takes everywhere. So I bought a pig right after that. Only thing is, I must've bought the wrong one because, in no time, it was 300 pounds and I could barely lift the son of a gun.

Arnold Schwarzenegger, The Columbis Dispatch, March 2014
Make sure to meet all of the Govenator fur babies in our Arnold Schwarzenegger Celebrity Pet Profile.