 Zoe
Zoe is Chloe's childhood cat that lives with her family.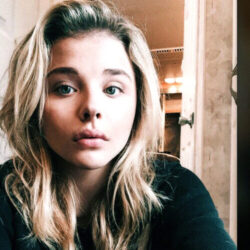 Birthday
February 10, 1997 (26)
Chloe Grace Moretz is an American actress and model. She got into acting at a very young age, thanks to her brother Trevor being accepted into the Professional Performing Arts School. Helping her brother rehearse and getting tips from him, he has been her acting coach ever since. She got her first professional acting job in 2004, with two episodes on the show The Guardian. The next year at age 7, she was nominated for her first award for her first film role in The Amityville Horror. She followed this up with more TV appearances and smaller parts in films.
Her breakout role came playing the lead character Hit-Girl in the action film Kick-Ass in 2010 and it's sequel, which also caused controversy due her violent role. Now only in her early teens, she was considered one of the busiest actresses in Hollywood, performing in a series of major studio films. This included Martin Scorsese's Hugo (2011), the remake of Stephen King's Carrie (2013), Tim Burton's Dark Shadows (2012) starring Johnny Depp and Neighbors 2 with Seth Rogen and Zac Efron. She also works as a model, working with brands such as Coach, Dior and Max Mara.