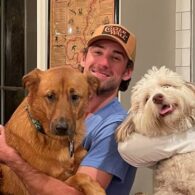 Sturgill (Dog)
Ryan Blaney shares a special bond with his Shepherd/Lab mix, Sturgill, who remarkably mirrors his owner's demeanor. Sturgill is described as a fun-loving companion who effortlessly gets along with both humans and other dogs, mirroring Blaney's amicable nature. Despite having dogs in the family during his upbringing, Blaney regards Sturgill as his first dog. He cherishes the journey of watching Sturgill grow, from a mere 2-month-old puppy weighing 10 pounds to a robust companion of 70 pounds, and he's even bigger today! Family Dogs (Dog)
Blaney harbors a deep-rooted affection for dogs, stemming from his early years in High Point, North Carolina, where his family had the companionship of two beloved dogs. Initially, they had a yellow Lab, followed by a Havanese/Shih Tzu, enriching Blaney's upbringing with canine camaraderie.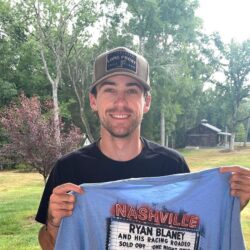 Birthday
December 31, 1993 (29)
Ryan Blaney is an American professional stock car racing driver, notably recognized for his tenure with Team Penske in the NASCAR Cup Series. Transitioning into a full-time racing career, his prowess on the track became apparent with notable victories that marked his ascent within the motorsport arena. Among these victories, the standout moment came in 2017, when Blaney clinched his first Cup Series win at the Pocono Raceway, which is often heralded as his major breakout achievement.
As a motorsport athlete, Blaney's career is tightly interwoven with high-speed racing rather than the conventional entertainment industry, thus his collaborations are largely seen within the racing community. Throughout his career, he has worked alongside prominent figures within the NASCAR realm, including drivers like Joey Logano, Brad Keselowski, Kevin Harvick, Chase Elliott, Kyle Busch, Martin Truex Jr., Denny Hamlin, Kurt Busch, Jimmie Johnson, and Dale Earnhardt Jr.
Ryan Blaney's achievements in motorsports are a testament to his skill and dedication to the sport. Among these, his first win at the NASCAR Cup Series in 2017 stands as a significant milestone.