Between going viral for his passion for swimming in his private pool and competing in his first Hydro Dash, Thor the Brown Boston has had a busy summer so far. So the Celebrity Pets team is pretty lucky to catch up with him for an interview!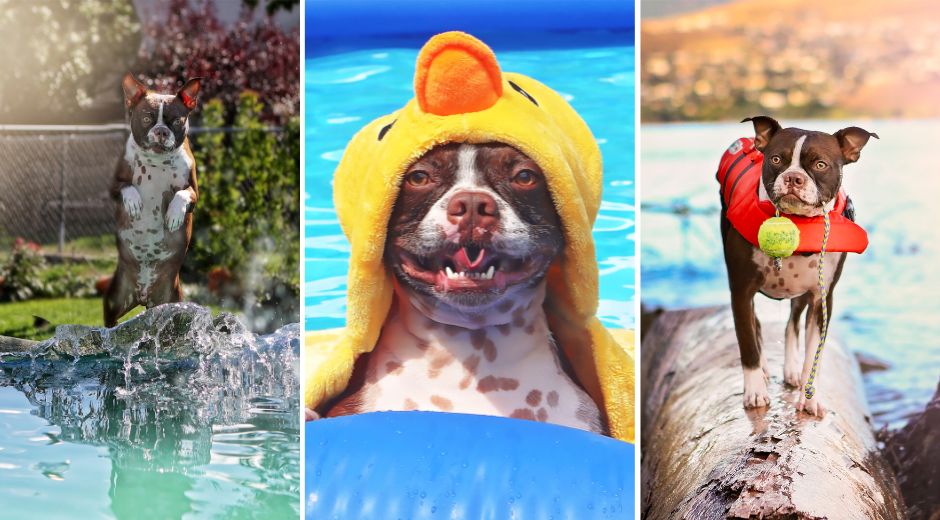 CP: What was it like meeting your humans for the first time?
Thor: My pawrents came to see me a few times before I made the journey to my new home and each time they seemed more excited than the last!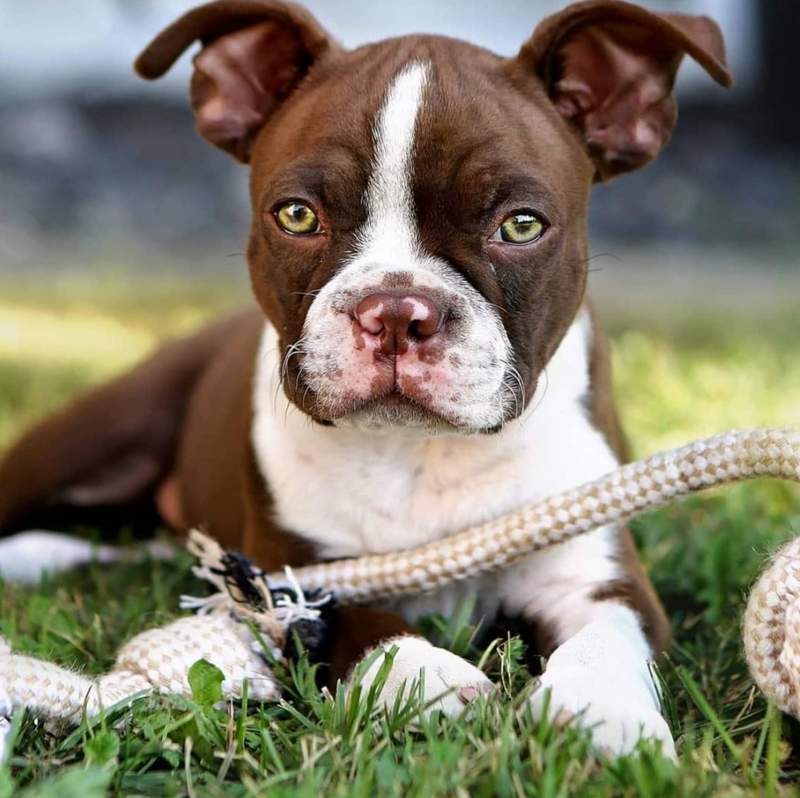 CP: Can you share any favorite memories from your puppyhood?
Thor: I loved being the center of the universe (who doesn't?) And it's safe to say, not much has changed. I was a bit of a pest to my sister – I used to love biting her butt and running away. Needless to say, it took her about two years for her to warm up to me, but we are like peanut butter and jam now.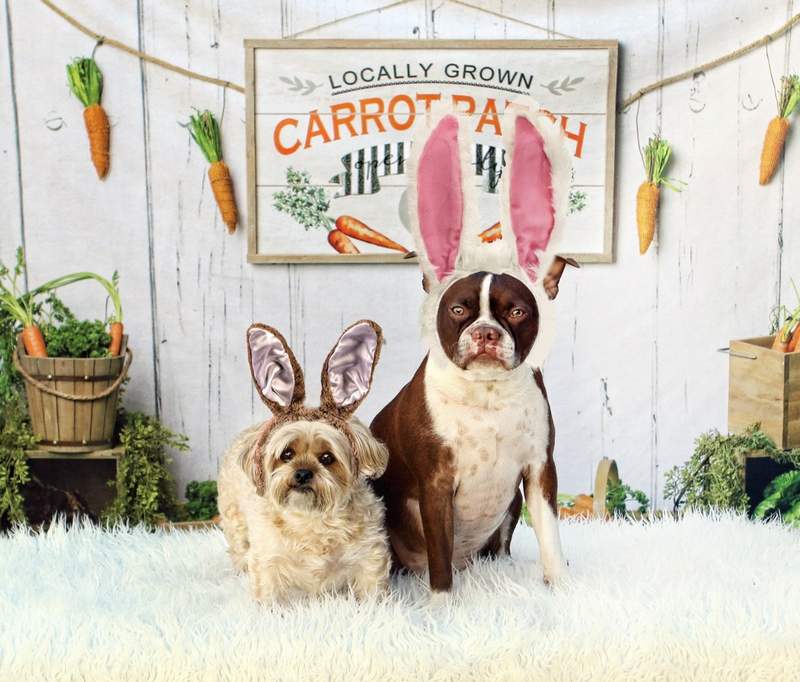 CP: Do you remember your first swim?
Thor: I was only about three months old when I had my first swim. I went chasing after Dad, and the ground turned into quicksand. I admit I did not see that one coming and hightailed it out of there as fast as possible.
CP: Glad you powered through that scary first try! So everyone's been talking about your new (private) indoor pool, which is also your 3rd pool. Can you tell us what it was like getting your first pool?
Thor: My first swimming experiences were in the lake – The pool came after. I used to perch myself on the edge of the pool and often review my options before finally jumping in. The following year I realized I was part eagle and started launching myself off the edge so I could fly!
CP: What do you like about your new pool? And how did you negotiate both an outdoor and indoor pool? You have a sports agent now or something?
Thor: Being able to swim all year is amazing. I'm a connoisseur of all things food, so sometimes after winter, I would get what my Mom would call "winter fluff" because I'm less active in the colder months. That's when they thought an indoor pool for the winter would help out. After the first few weeks of the indoor pool, I convinced them to get in with me to hopefully whip them into shape alongside me. So now I'm my pawents' trainer!
CP: That means with indoor and outdoor options, you can swim year-round?
Thor: I tried dock diving for the first time last summer because some of my internet friends thought I would be good at it from watching my videos. Mom and Dad weren't sure I would like it… But of course I did. Who wouldn't want to fly? Most dogs who dock dive practice, but I don't get many chances as there's no place for it near me. Mom and Dad wanted to make sure if I couldn't practice, that I at least was in the best shape possible when the season started.
But training aside, the number one reason they had the indoor pool room built for me was because I love to swim and it makes me happy!
CP: You recently competed in your first "Dock Diving" competition in Calgary. Can you share highlights from it?
Thor: There are usually three events at Dock Diving competitions. There is the Distance Jump, Hydro Dash, and Air Retrieve. Last year I did Distance Jumping which, I'm clearly a natural at. Mom wanted me to try Hydro Dash this year, which consists of jumping off the dock, swimming to the other end, grabbing the bumper toy, and bringing it back as fast as you can. I was always good at the swimming part but struggled with the grabbing of the bumper.
So this spring Mom practiced with me by hanging a bumper toy with some rope from the clothesline in the backyard. It looked a bit ridiculous, but we practiced and practiced, and I did it on my first try in the competition! Mom and Dad looked so happy. I also tried the Air Retrieve too for the first time this year, and it might be my new favorite.
And as you can see in the TikToks I've included above, I just earned my Elite Title at the Distance Jump and crushed my personal best at the Hydro Dash!
CP: Do you also enjoy swimming in the great outdoors?
Thor: Kalamalka Lake is where I learned to swim and is my first love.
CP: And do you enjoy any other outdoor activities?
Thor: I love a good walk/hike. I also love the snow and enjoy helping Dad shovel in the winter. FYI I'm an invaluable member of the snow removal team.
CP: Do you have any tips for dogs who are interested in swimming?
Thor: I get asked this a lot. Definitely start slowly with positive experiences. My pawrents actually found out by accident that I liked swimming. We used to walk the trail beside the lake, and when it got hot, they encouraged me to get my feet wet to cool off. Each time I would go in a little further until one day, Dad went running in and I went running in after! Mom and Dad were told by many that Boston Terriers didn't swim, so they didn't really have any expectations.
Start slow. Maybe just get your feet wet the first time, second time, third time go a bit further. My pawrents would throw toys in the pool for me to get short, positive experiences.

Thor the Brown Boston – On tips for dogs new to swimming
CP: When you're not swimming, how do you like to kick back and relax?
Thor: Oh the usual. I love to play ball, chew bones, cuddle on the couch, and snack.
CP: You first started to grow in popularity during the COVID lockdowns. Can you tell us that story?
Thor: Covid had everyone pretty grumpy (and scared), My Mom decided she would post a picture a day to try to make people smile. I still have flashbacks of the ridiculousness she made me partake in. I have been everything from a bumble bee to Mrs. Dogfire and everything in between.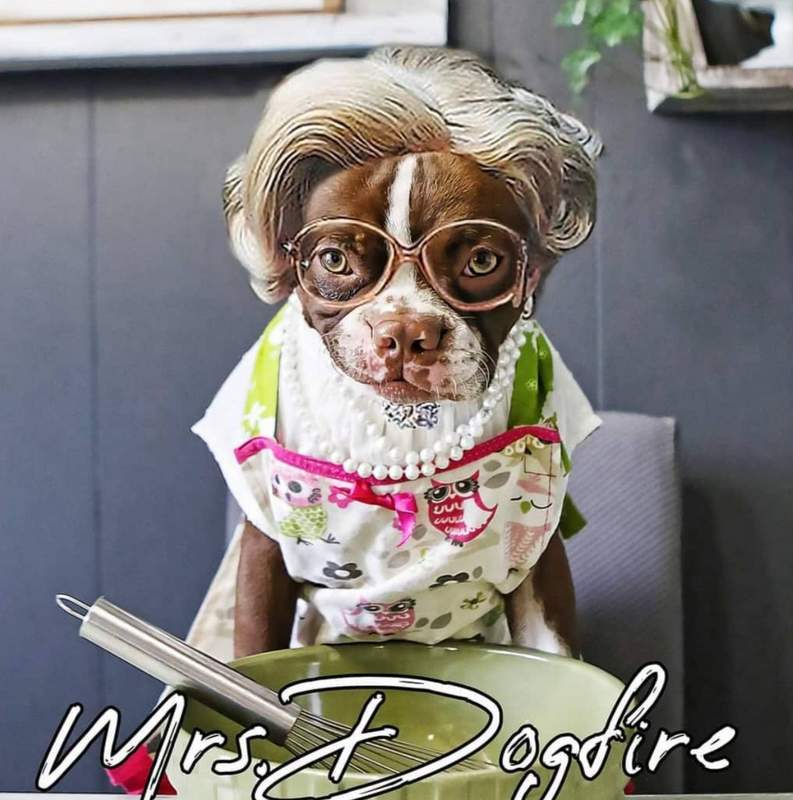 And from seeing all the icky masks lying around, I decided to help by picking them up with poop bags and stashing them in my backpack. I even was featured in a local newspaper to help inspire others to do the same, which was pretty cool!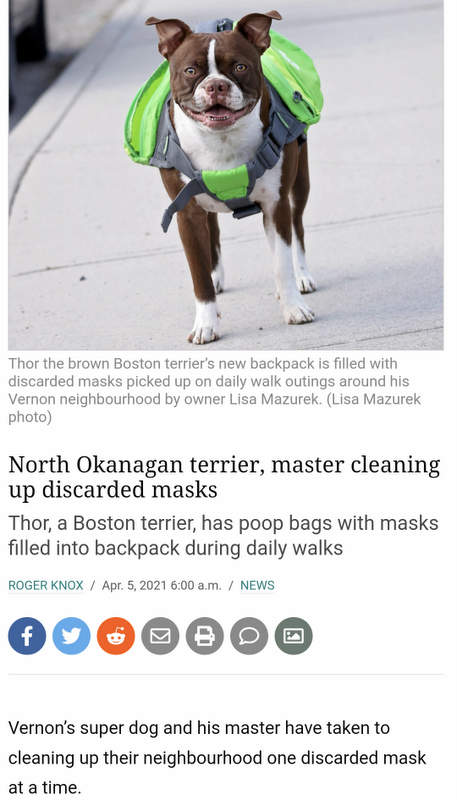 CP: Do you have any other talents or tricks?
Thor: I am a very good model. Mom has been taking pictures of me since I was a young lad and will do practically anything for a treat. I would like to try Barn Hunt (a doggy sport that simulates hunting vermin) someday, and of course, I'm open to the idea of becoming a professional taste tester…
CP: If we promise not to tell your humans… What's the naughtiest thing you've done?
Thor: Well, I may or may not have taken the stuffing out of the couch. I don't know, it looked more like Bob Ross than myself. There was also the so-called "boot incident" but note I pleaded not guilty.
CP: When your life story is turned into a feature film, what celebrity would play you and your human(s)? Who would co-star?
Thor: Ryan Reynolds would play me (obviously). Mary-Louise Parker for my Mom and Will Ferrell for Dad.
CP: If you were stuck on a deserted island, what are some essential items you'd take?
Thor: My lifejacket for sure. My pawrents, the big silver thing in the kitchen with all my food in it, and a ball.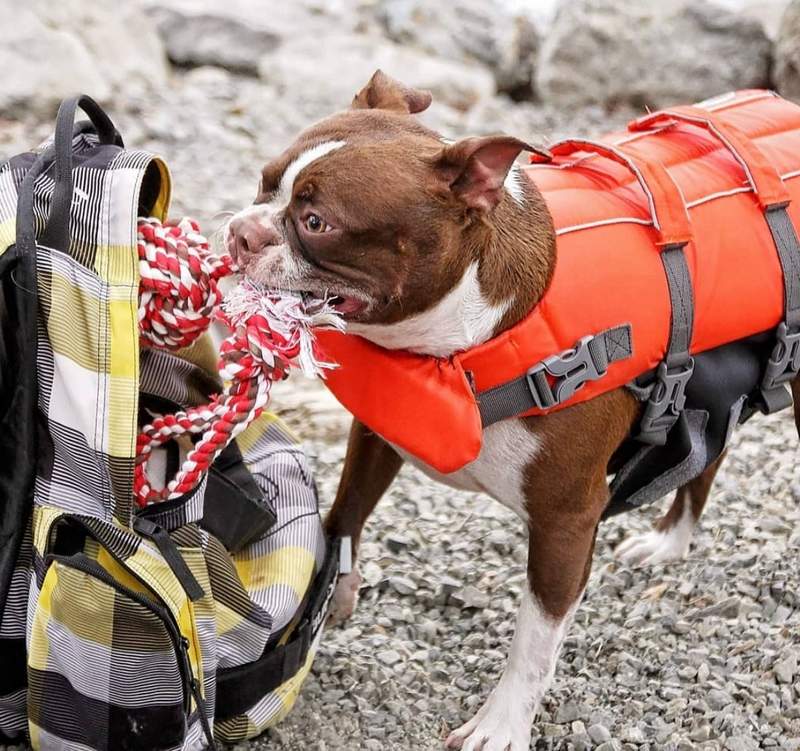 CP: If you just won the lottery, what's the first thing you'd buy or do?
Thor: It would be hard to choose. I would love to have a fund that would be able to help any dog who needs to see the vet. Many pawrents have a difficult time covering those costs. I would support pet soup kitchens, rescue the dogs and open a dock diving facility in the Okanagan so Mom and Dad wouldn't have to travel 6 hours every time for me to compete, although we would still go there because we love our Calgary family, it would just be great to bring this great sport to the Okanagan.
CP: If you could give your younger self one piece of advice, what would it be?
Thor: You had them at hello.
CP: Imagine you're the host of Late Night Talk with Thor. Who would be your top three celebrity guests and why?
Thor: I would invite Thor (Chris Hemsworth) because he was named after me. Aquaman (Jason Momoa) because he's almost as good a swimmer as me. And of course, John Wick (Keanu Reeves) because he loves dogs!
…Sorry, didn't receive that memo.

Thor the Brown Boston – When asked about all the people saying Boston Terriers aren't natural swimmers
CP: Is there a charity or non-profit organization you'd like to give a shoutout to?
Thor: Boston Terrier Rescue of Canada, Pet Soup Kitchens, Rescues, all of them.
CP: And are there any pet influencers you're a fan of that you'd like to give a shoutout to?
Thor: I'd like to take this opportunity to shoutout the people making a difference in their pets' lives and all pets' lives, one animal at a time. There are so many unsung heroes!
CP: Can you share the story behind this TikTok?
Thor: One of my online friends sent me a bag of assorted duck professionals. In the past, I had made it abundantly clear that I did not want any friends/toys joining me in the pool and made that known by picking them up and dropping them out of the pool… So when this package arrived, I kissed all the ducks, and when they were placed in the pool, I lovingly returned them to their bag.
CP: Have any exciting plans coming up this summer?
Thor: I am heading to Calgary several more times this summer for competition, hoping to get an invite for Regionals. This would be a first for me! I also plan to visit the lake lots as it is still my favorite place to swim.
Thanks for your time Thor! You've definitely inspired us and our readers to get in the water this summer. Make sure to follow @thorthebrownboston on TikTok, Instagram, and Facebook.