 Priscilla and Venus (Cat)
In a 2015 interview after being cast in her Andrew Lloyd Webber's Cats, Delta mentioned that she had two cats at home named Priscilla and Venus.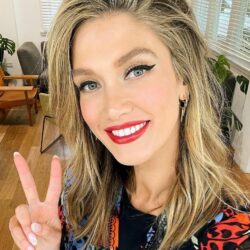 Birthday
November 9, 1984 (39)
Delta Goodrem is an Australian singer, songwriter, and actress. She rose to fame in the early 2000s with her debut album "Innocent Eyes", which topped the charts in Australia and included hit singles like "Born to Try" and "Lost Without You". Goodrem's work have earned her numerous awards, including multiple ARIA Awards.
Goodrem's gained popularity through her role as Nina Tucker on the early 2000s Australian soap opera, Neighbours. She gained a fan base for the role, and soon led to her transition into music. In 2003, she released her debut album, "Innocent Eyes," which quickly became the highest-selling album in Australia that year, and earned her seven ARIA Awards.
A milestone in Goodrem's career came with her battle with Hodgkin's lymphoma in 2003. Despite her diagnosis, she continued to work on her music, and her resilience and determination inspired fans around the world. Her comeback single, "Out of the Blue," debuted at number one on the Australian charts.
Goodrem has collaborated with Olivia Newton-John, Tina Arena, Brian McFadden, and Andrea Bocelli. She has also served as a coach on the Australian version of The Voice, working alongside fellow music legends such as Boy George and Kelly Rowland.
Goodrem is also a passionate advocate for cancer research and animal welfare. She has worked with various non-profit organizations, including the Olivia Newton-John Cancer Wellness and Research Centre, and has used her platform to raise awareness of important issues related to cancer and animal rights.
In recognition of her contributions to Australian music and culture, Goodrem was appointed a Member of the Order of Australia in 2021.