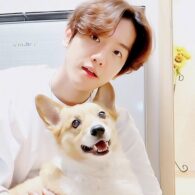 Mongryong (Dog)
Baekhyun is the proud owner of a Corgi named Mongryong. Known affectionately among EXO-Ls as a part of the beagle-line in EXO, his corgi Mongryong reportedly resides at his parents' house, as revealed in a vlog on his YouTube channel, likely due to Baekhyun's bustling schedule as an artist.
Baekhyun, an admired South Korean singer, actor, and member of the K-pop group EXO, has captivated audiences with his exceptional vocal range and on-screen performances.
His journey into the realm of music and acting began with the debut of EXO in 2012, which soon became one of South Korea's most outstanding music groups. His melodious voice was notably featured in albums such as "XOXO", "Exodus", and "The War", which were commercial successes. Besides his group activities, Baekhyun launched a solo career with the extended play "City Lights" in 2019, which was well-received and showcased his vocal prowess.
Baekhyun's collaborative ventures have created a melange of musical and acting experiences. His collaborations extend to artists like Loco in "Young", Suzy in "Dream", and Yoo Young-jin in "Tell Me (What Is Love)". In the acting arena, he has shared screen space with actors like Lee Joon-gi and Kang Ha-neul in the television series "Moon Lovers: Scarlet Heart Ryeo". Additionally, he has worked with Seo Moon Tak in "Hurt", Uhm Jung Hwa in "Sorrow", and Raiden in "Love Again". His interactions with fellow EXO members such as Kai and Chanyeol in "Love Me Right Romantic Universe", and Chen and Xiumin in "For You" also highlight the synergy within the group.
Baekhyun has been honored with awards like the Golden Disc Award for Digital Daesang, and the Mnet Asian Music Award for Best Male Artist. His prowess also extends to his role as a leader, being the inaugural director of SM Entertainment's newly established group, SuperM.