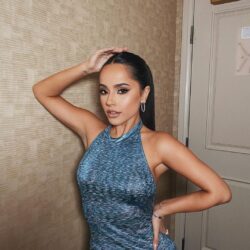 Birthday
March 2, 1997 (26)
Rebbeca Gomez, known professionally as Becky G, is a multi-talented American singer, rapper, and actress who first gained attention with her viral videos on YouTube and her appearance on the popular reality show "The X Factor" in 2011. One of her videos caught the attention of producer Dr. Luke, who subsequently offered her a joint record deal with Kemosabe Records and RCA Records. Since then, she has released several hit singles and collaborated with a range of other artists and celebrities.
One of Becky G's biggest hits to date is "Shower," a catchy pop song that became a huge success upon its release in 2014. The song's upbeat melody and Becky G's infectious energy helped to propel it to the top of the charts and solidify her position as a rising star in the music industry. She has since released several other hit songs, including "Can't Get Enough" and "Mayores."
While working on her debut effort, Gomez collaborated with artists will.i.am, Cody Simpson and Cher Lloyd. Becky G has also collaborated with a range of other musicians and celebrities, including Pitbull, J Balvin, and Bad Bunny. In 2019, she released a collaboration with BTS member J-Hope called "Chicken Noodle Soup," which became a global sensation and helped to further expand her reach and appeal.
In addition to her impressive accomplishments as a musician, Becky G is also known for her advocacy for animal welfare and her love of pets. She has spoken out against animal cruelty and has been involved in various campaigns to promote animal rights. In 2018, she partnered with the American Society for the Prevention of Cruelty to Animals (ASPCA) to raise awareness about the importance of spaying and neutering pets.
Beyond her work in music and her advocacy for animals, Becky G has also ventured into the world of acting. She has appeared in several films and TV shows, including the hit movie "Power Rangers" and the Netflix series "Familia P. Luche."