 No Pets (Alex Honnold)
Alex Honnold does not have any reported pets. It seems fairly difficult to adopt a pet when you are hanging on the edge of a cliff all day. Maybe he'll rescue a hawk or an eagle one day.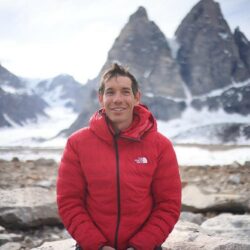 Birthday
August 17, 1985 (38)
Alex Honnold is an American professional rock climber and free soloist, known for his incredible feats of climbing without the use of ropes, harnesses, or any other safety equipment. Born and raised in Sacramento, California, Honnold began climbing at the age of 11 and quickly became enamored with the sport. His passion for climbing and his willingness to take on ever-more challenging routes eventually led him to become one of the most accomplished and widely recognized climbers in the world.
Honnold's breakout role came in 2010 when he completed the first-ever free solo ascent of the northwest face of Yosemite's Half Dome, a 2,000-foot vertical climb that took him just under three hours to complete. The achievement garnered widespread attention and helped establish Honnold as one of the most daring and accomplished climbers of his generation. In the years since, Honnold has gone on to complete a number of other notable free solo climbs, including the first-ever free solo ascent of El Capitan, a 3,000-foot vertical climb in Yosemite Valley that he completed in just under four hours.
Despite his reputation as a fearless and somewhat reckless climber, Honnold has always been dedicated to safety and preparation. He spends countless hours meticulously studying routes and practicing his techniques, and he has developed a reputation as one of the most thoughtful and analytical climbers in the world. This combination of fearlessness and preparation has helped Honnold achieve some of the most incredible feats in the history of rock climbing, and has made him a role model and inspiration to climbers and outdoor enthusiasts around the world.
One of the most important milestones in Honnold's career came in 2018 when he teamed up with director Jimmy Chin to make the documentary film Free Solo. The film chronicles Honnold's attempt to complete the first-ever free solo ascent of El Capitan and provides a stunning visual portrait of the dangers and rewards of the sport. Free Solo was an instant critical and commercial success, earning widespread acclaim and numerous awards, including the Academy Award for Best Documentary Feature.
Honnold has worked with a number of celebrities and influential people throughout his career, including professional snowboarder Travis Rice, musician and outdoor enthusiast Jack Johnson, and actor and fellow climber Jason Momoa. He has also been a vocal advocate for animal welfare and has worked closely with a number of animal non-profit organizations, including the Humane Society and the Best Friends Animal Society. In addition, Honnold is an avid pet lover and has several cats and dogs that he adores.