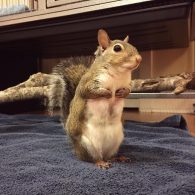 Rescue Squirrel (Squirrel)
John Lydon, also known as Johnny Rotten and the frontman of Sex Pistols and Public Image Ltd, suffered several flea bites, including one to his penis, after sheltering a group of squirrels in his Los Angeles home. Despite the flea infestation likely being due to the squirrels, Lydon refused to blame them, considering the creatures his friends. The story was first shared in Lydon's recent book, "I Could Be Wrong, I Could Be Right."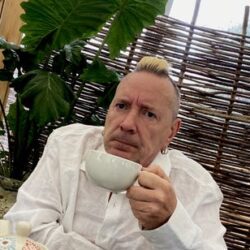 Birthday
January 31, 1956 (67)
John Lydon, an influential English musician and songwriter, made his mark in the music industry through his tenure as the lead vocalist for the punk rock band, Sex Pistols, and later as the frontman of the post-punk band, Public Image Ltd (PiL). His unapologetic personality, unique vocal style, and audacious lyrics have made him one of the defining figures of the punk movement, ultimately shaping the landscape of modern rock music.
Lydon's ascent to prominence began in the mid-1970s with the Sex Pistols, a band that played a pivotal role in igniting the punk rock revolution in the UK. With iconic singles like "Anarchy in the U.K." and "God Save the Queen," they questioned the social and political status quo, causing a cultural shockwave still palpable in today's music scene. Post Sex Pistols, Lydon formed Public Image Ltd (PiL) in 1978, which went on to push the boundaries of rock music with albums such as "Metal Box" and "Album." His artistic evolution continued well into the 21st century, with his solo works and numerous guest appearances in film and television.
John Lydon's career has been marked by notable collaborations with other artists and industry figures. He worked closely with legendary producer Bill Laswell on PiL's "Album", a fusion of diverse styles including punk, dub, and world music. He has also performed with the electronic band Leftfield on the track "Open Up," which reached number one on the U.S. Billboard Dance Club Songs chart. Among other influential individuals, Lydon has crossed paths with icons such as musician and artist Yoko Ono, rock guitarist Steve Jones, and fashion designer Vivienne Westwood, all of whom left a distinct imprint on his multifaceted career. His collaborations with musicians such as Afrika Bambaataa, Flea, and Moby further underscore his broad musical reach.
Lydon's contribution to the music world has been recognized with numerous distinctions. In 2006, he was inducted into the UK Music Hall of Fame with the Sex Pistols. His band, PiL, was named among the "50 Bands to See Before You Die" by Q Magazine, acknowledging the innovative and influential nature of their music. In a 2002 poll conducted by the popular music magazine, NME, Lydon's song "God Save the Queen" was voted the 3rd greatest 'sing-along' song.
While his contributions to music are widely recognized, Lydon's dedication to animal welfare has also been a prominent aspect of his public persona. An ardent animal lover, Lydon has been involved in advocating for animal rights on multiple occasions. He made headlines when he rescued a squirrel he found trapped in his home, a testament to his compassion for animals in all forms.