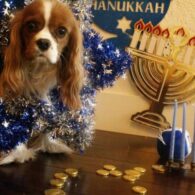 Zelda
Seth Rogen and his wife Lauren Miller had a beloved Cavalier King Charles Spaniel named Zelda they adopted in 2011. She first made a public appearance that year on The Ellen Degeneres Show which you can watch below. Zelda passed away on May 4th, 2023, at close to 14 years old, with Rogen posting a touching tribute to her on Instagram, which you can read below.
In September 2023, Rogen and Miller both got tattoos of Zelda.
We said goodbye to our perfect girl Zelda on Thursday, May 4th. She was almost 14 years old. She was truly the most special, magical creature. She taught us about love, resilience, strength and kindness. We loved her more than words can describe. Everyone who met her saw what a unique little puppy she was. She'd stare in to your soul with her gigantic buggy eyes. She was so judgmental, that when she loved you, you really knew you earned it, and it made you feel like you had won.
She had an incredible life and was lucky to have so many friends and shared her special love with so many people. She was a girl who was so shy no one adopted her as a baby who became a girl who travelled to multiple countries, appeared in three movies, on two magazine covers, and inspired countless works of Zelda-art— including a lighter that is now in the homes of hundreds of people.
We have a (long) list of things that were special about her. Here are a few highlights:
—Her big eyeballs and her intense eye contact
—How it feels when she stretches while I'm holding her in my arms
—How she comes inside before she's done pooing, takes a treat and then runs to the door when she realizes she has to poo more
—The sound she made for Zankou chicken.
—The way the fur on her legs looks like culottes from the back
—Her leave me alone side eye
—The way she would sit and wait to be called to walk through the metal detectors at the airport and then she'd run through them and everyone would comment about what a good girl she was
—How she always wants to sleep in Seth's spot
—When she would go to the door pretending to have to go out, but just wanted to get us away from our food, although she would never actually go for it
—Her big gigantic poops that always surprised people because of her small size
—The way she loved sprinting up and down hotel hallways
—How she'd ask Seth to take her outside over and over again just for treats
—The way she pounced on seaweed and her paws left tracks in the sand. And then she'd "kill it" and ask to take it home.
—How incredible it felt to wake up in the morning and see her starring back at me.
We belonged to each other and we will miss her forever.

@sethrogen, Instagram, May 2023
Birthday
April 15, 1982 (41)
Seth Rogen is a Canadian comedian, actor, writer, producer, and director who is best known for his work in comedy films. His first notable role was on the 1999 series "Freaks and Geeks". His first major movie role was in "The 40-Year-Old Virgin" with Steve Carell, Paul Rudd, and Catherine Keener. Since then, he has become a staple in the comedy genre with hit films like "Superbad" with Jonah Hill, Michael Cera, and Bill Hader. He also starred in "Pineapple Express," and "The Interview," alongside James Franco. He has also worked with directors like Judd Apatow in films like "Knocked Up" and "Funny People." Additionally, he has lent his voice to animated films like "Kung Fu Panda" and "Monsters vs. Aliens."
In addition to his success in film and television, Seth Rogen has also made significant contributions to charity and philanthropy. He and his wife, Lauren Miller Rogen, founded Hilarity for Charity, a non-profit organization that raises awareness and funds for Alzheimer's disease research. The organization hosts an annual variety show in Los Angeles, featuring top comedians and musical acts.