 No Pets (Mia Wasikowska)
Mia Wasikowska does not have any reported pets.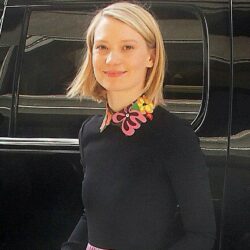 Birthday
October 25, 1989 (34)
Mia Wasikowska is an Australian actress known for her powerful and nuanced performances on both the big and small screens. Born and raised in Canberra, Australia, Wasikowska began her acting career in her early teens, appearing in several Australian television shows and films.
Her breakthrough role came in 2010, when she starred as the lead in Tim Burton's adaptation of "Alice in Wonderland." The film was a box office success, grossing over $1 billion worldwide, and helped establish Wasikowska as a rising star in Hollywood. She went on to appear in several other high-profile films, including "Jane Eyre," "Stoker," and "Crimson Peak."
Throughout her career, Wasikowska has collaborated with a wide range of artists and celebrities, both on and off screen. She has worked with notable directors such as Gus Van Sant, Park Chan-wook, and David Cronenberg, and has shared the screen with actors such as Johnny Depp, Tom Hiddleston, and Nicole Kidman.
Wasikowska has also been a vocal advocate for social and environmental causes, using her platform to raise awareness and promote positive change. She has worked with organizations such as the Australian Marine Conservation Society and the United Nations Foundation's Girl Up campaign, and has spoken out against issues such as climate change, animal cruelty, and gender inequality.
In addition to her work in film, Wasikowska has also made a name for herself on the stage. She has appeared in several productions of the Sydney Theatre Company, including the Australian premiere of "Blackbird" and a production of "The Crucible" opposite Cate Blanchett. Wasikowska has also worked with the American Conservatory Theater in San Francisco and the Classic Stage Company in New York.