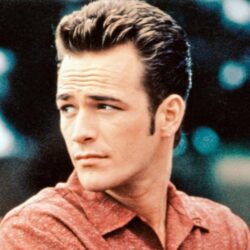 Birthday
October 11, 1966 (56)
Luke Perry was an American actor, whose portrayal of "Dylan McKay" in the iconic television series Beverly Hills, 90210 cemented his place in pop culture history. His magnetic performances left an indelible mark on the world of entertainment, resonating with audiences across the globe. Perry passed away in March 2019 at the age of 52.
Perry's body of work is a testament to his versatile acting abilities, which extended far beyond his memorable role in Beverly Hills, 90210. After gaining fame in the 1990s, he expanded his acting portfolio with various roles in both television and film. He showcased his acting prowess in the popular series Oz, and later starred as "Fred Andrews" in the successful television show Riverdale. On the big screen, Perry had notable roles in films such as Buffy the Vampire Slayer and The Fifth Element, proving his adaptability across different genres and platforms.
Throughout his career, Perry collaborated with an array of renowned individuals in the industry. In Beverly Hills, 90210, he starred alongside actors Shannen Doherty, Jennie Garth, Jason Priestley, Tori Spelling, Tori Spelling, and Ian Ziering. Later in his career, on the set of Riverdale, he shared the screen with a new generation of actors, including KJ Apa, Lili Reinhart, and Camila Mendes. Perry also worked with acclaimed directors such as Luc Besson in The Fifth Element and Joss Whedon in the film version of Buffy the Vampire Slayer.
In his career, Perry received several awards and distinctions that recognized his considerable talent. He won the Bravo Otto Award for Best Male TV Star three times for his role in Beverly Hills, 90210. Additionally, his performances in Riverdale earned him a nomination for the Saturn Award for Best Guest Starring Role on Television. Perry's influence also extended beyond traditional awards, with his character "Dylan McKay" often being cited as one of the defining television characters of the 1990s.