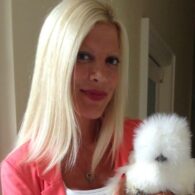 Coco Chanel (Chicken)
Known for having pigs, goats, and other odd pets, Tori Spelling's most popular about pet is her chicken, Coco Chanel. Not only does the chicken get a fancy perm to look pretty ridiculous, but she also sleeps in the same bed as the actress. While it may be very normal to have your favorite companion sleep in your bed together, it's also preferred you choose one that has bladder control. Coco lives a pretty lavish life for a chicken. When the "house chicken" is not riding around in Spelling's purse, she gets to live in a beautiful home surrounded by toys and try on vintage sweaters for chickens. Ferris (Dog)
One of Spelling's oldest dogs, Ferris was with Tori through many years of her life. He passed away at the age of 19 and lived a long and happy life after being rescued. RIP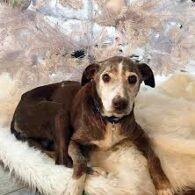 Arthur Bear Reynolds (Dog)
Arthur was rescued by Spelling during The Woolsey fires from Much Love Animal Rescue. He was close to 20 years old when he passed in September 2021. Tori was devastated by his death, stating on her Instagram post that "We didn't get a long time with him but I've cherished the years we had together." RIP Arthur.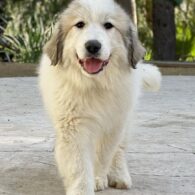 Frankie Dawn (Dog)
Frankie came into the Spelling family in February 2021, though she's proved to be an elusive member of the family! Not much can be found on her besides this adorable introductory Instagram post from Tori.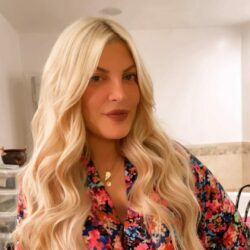 Birthday
May 16, 1973 (50)
Tori Spelling is an American actress, TV personality socialite, author, and avid animal rescuer. She's best known for her starring role in Beverly Hills, 90210, alongside Shannen Doherty, Jennie Garth, Jason Priestley, Brian Austin Green, Luke Perry, and Ian Ziering.
Spelling's pets and rescue activism are a huge part of her presence in the tabloids. She has even stated that she wants to open an animal sanctuary to house all the homeless and abandoned animals. Her most popular animals are her chicken, Coco Chanel, and pig, Nutmeg. She also frequently shares rescue dogs looking for adoption on her Instagram account.
Her father was Aaron Spelling, a famous Hollywood producer that got her into acting at the age of 6. In 1990 she landed her first major acting role on Beverly Hills, 90210 thanks to Aaron Spelling producing the show. During the 1990s she also starred in several made-for-TV and independent movies. Through the 2000's she starred in the VH1 sitcom So Notorious. The show was a parody of her public image as an actress and socialite that ran for one season.
In 2006 she married Canadian actor Dean McDermott. The next year they both starred in their own reality TV show Tori & Dean: Inn Love and later Tori & Dean: Home Sweet Hollywood, which ran from 2007 to 2012. The couple have two follow-up reality TV shows that ran for a season each. In 2014, she starred alongside Jennie Garth on a ABC Family sitcom called Mystery Girls for one season. She has also worked as a voice actor and authored several books.
Tori Spelling's Pets
A notorious animal lover, Tori Spelling's pets are mostly rescues. Over the years she has welcomed a variety of animals into her family. In an interview from ET Canada, Spelling talked about the impact adopting a pet in need of a home can have. "Sadly senior rescues are not as desirable as puppies. But, if you have the opportunity to be a forever home to a senior pet do it! It's life changing."
In September 2021, Tori broke the silence on the loss of her senior pet pooch Arthur Bear, who she rescued from the Woosley fire in 2018 through Much Love Animal Rescue. In her Instagram post celebrating his life she mentioned that "Arthur was close to 20 when he passed. We didn't get a long time with him but I've cherished the years we had together. I was his human. He was one of the greatest loves of my life."
Arthur is survived by his pooch siblings (Musso, Benny, Thea, Joon, Beso, and Frankie Dawn), pig brother (Wilbur), eight hen sisters, bearded dragons, hamsters, guinea pigs, and the newest pet addition: Mr. Bean the Bengal Cat.
Trouble in Pet Paradise
In late October 2021, Spelling's dog Musso was violently attacked by another animal. She shared the frightening news on her Instagram, stating that the other animal "just missed" her dog's jugular. Fortunately, Musso is on the mend, but the pooch sustained injuries that required stitches and putting him in a protective tee to prevent him from licking the wounds. Tori's post included that Musso is taking rest and staying comfortable with pain killers.
Musso skirted another potentially deadly situation only a few years earlier. In September 2017, Spelling experienced a similar scare when she revealed that two of her dogs were attacked, and one nearly killed, by a coyote. She detailed the incident on her Instagram Stories while walking through the scene in her backyard stating "…coyotes got into our yard and dragged out … well, attacked one of our dogs, only four bites, but dragged one of them into a neighbor's yard and almost killed him."
She explained that Musso escaped the coyotes in her own yard with the four bites, but Ferris, who ran to her neighbor's yard, got into a more serious situation. Luckily, the neighbor "grabbed a broom and ran full force up the hill chasing the coyotes away," Spelling said. The coyotes were apparently shaking Ferris like a rag doll but dropped him when they were scared away. Poor Ferris was bleeding from his neck and couldn't walk.
Spelling's neighbor then rushed Ferris to the animal hospital but at that point he had already lost a lot of blood and wasn't breathing well. Spelling mentioned in an interview that she was expecting to say goodbye to her beloved dog. Miraculously, Ferris pulled through and made a full recovery. "If they hadn't acted so quickly, Ferris, who I have had for 15 years, would be dead. He's a little miracle. No one at the vet can believe how truly lucky he is.
Tori Spelling's pets mean the world to her. It's a miracle that both of these scares didn't result in any casualties.
Tori Spelling's Divorce: What Does it Mean for the Pets?
It looks like the Spelling-McDermott family may have some turbulence ahead. Tori and longtime husband, Dean McDermott, are allegedly on the rocks after rumours of divorce have been circulating. There seems to be no denying of such rumours and we can't help but wonder: what's going to happen to all of their animals? Tori Spelling's pets are everything to her. The thought of her separating from even a few of her fur babies is heartbreaking. How could she possibly choose? Could it possibly result in a custody war? We will be keeping a close eye on this story to see how it unfolds and keep you informed.