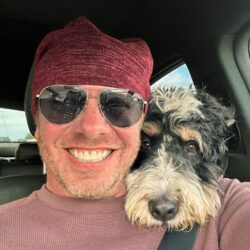 Birthday
March 30, 1964 (59)
Ian Ziering is an American actor best recognized for his portrayal of "Steve Sanders" in the hit 1990s television series Beverly Hills, 90210. Emerging from the fringes of Hollywood in the late 1980s, Ziering's multifaceted career spans over three decades, cementing his status as a beloved figure in popular culture.
Ziering's acting career is marked by an array of diverse roles in both film and television. After his breakthrough role in Beverly Hills, 90210, he successfully maintained his presence in the industry, appearing in popular television series like JAG and CSI: NY. Ziering's versatile acting ability also led him to voice-over roles, such as voicing "Wildwing Flashblade" in the animated series Mighty Ducks. However, it was his surprising turn in the Sharknado film series that truly solidified his iconic status. These delightfully campy and over-the-top films garnered a cult following and brought Ziering to a new generation of viewers, showcasing his ability to bring charm and humor to even the most unconventional roles.
Throughout his career, Ziering has worked alongside many influential individuals in the entertainment industry. While on Beverly Hills, 90210, he acted alongside actors Shannen Doherty, Jennie Garth, Jason Priestley, Brian Austin Green, Luke Perry, and Tori Spelling, all of whom became defining faces of 1990s television. On the set of the Sharknado series, Ziering starred opposite actress Tara Reid, and their on-screen chemistry contributed significantly to the films' success. Beyond acting, Ziering competed on Dancing with the Stars, working closely with professional dancer Cheryl Burke.
Ziering's career is adorned with various distinctions and titles that reflect his contribution to the industry. He received a Daytime Emmy Award nomination for Outstanding Performer in an Animated Program for his role in Biker Mice from Mars. Moreover, his performances in Beverly Hills, 90210 and the Sharknado series helped him garner Teen Choice Award nominations. Perhaps less conventionally, he was also recognized in 2013 by the Asylum, the production company behind Sharknado, with a "Cultural Icon" award for his role in the series.