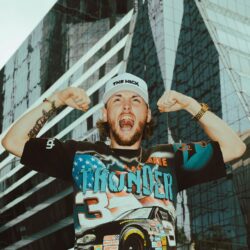 Birthday
January 27, 2000 (23)
Bailey Lynn Zimmerman is an American singer and songwriter, best known for his chart-topping singles "Fall in Love" and "Rock and a Hard Place," both of which clinched the number one spot on the Billboard Country Airplay chart. His debut album, "Religiously. The Album.," was released on May 12, 2023.
Zimmerman's entrance into the music scene was largely catalyzed by his effective use of social media. Initially sharing his music on TikTok starting in December 2020, he gained early attention with his debut single "Never Comin' Home," which found its way into the top 20 of Spotify's Viral Chart in the United States. His career trajectory steepened in 2022 when he released "Fall in Love," which ascended to number 31 on the Billboard Hot 100, followed by other significant singles like "Where It Ends." These successes paved the way for Zimmerman to sign with Warner Music Nashville and Elektra Records, and his major-label project "Leave the Light On" debuted in the top ten of both the Billboard 200 and Canadian Albums charts.
Known for his collaborative spirit, Zimmerman has worked with a multitude of artists and personalities across the industry. Some noteworthy collaborations include Josh Ross, who opened for Zimmerman on his U.S. headlining tour and will again join him for his 2024 "Religiously: The Tour." Further connections extend to fellow TikTok musicians, producers at Warner Music Nashville and Elektra Records, as well as songwriters who have been instrumental in crafting the stories in Zimmerman's music.
As for honors, Zimmerman's work hasn't gone unnoticed. In 2023, he received nominations at the CMT Music Awards for Male Breakthrough Video of the Year for "Fall in Love" and Male Video of the Year for "Rock and a Hard Place." He was also nominated for the New Male Artist of the Year at the Academy of Country Music Awards.