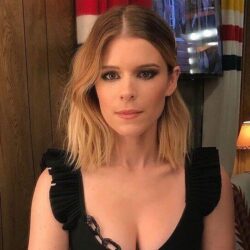 Birthday
February 27, 1983 (40)
Kate Mara is an American actress. Mara's breakout role came in 2006 when she was cast in the first season of the hit television series, "24." Her performance as computer analyst Shari Rothenberg earned critical acclaim and led to other high-profile television roles, including appearances on "Entourage," "American Horror Story," and "House of Cards." In addition to her television work, Mara has also appeared in numerous films, including "Brokeback Mountain," "The Martian," and "Fantastic Four." Kate is the older sister of Rooney Mara.
One of the milestones in Mara's career was her performance in the acclaimed drama series "House of Cards," which aired on Netflix from 2013 to 2018. Mara played Zoe Barnes, a young reporter who becomes involved with the show's central character, Frank Underwood. Mara's portrayal of Barnes earned her a Primetime Emmy Award nomination for Outstanding Guest Actress in a Drama Series in 2014.
Mara has collaborated with many other artists and celebrities throughout her career. She has worked with director Ridley Scott on the films "The Martian" and "Morgan," and with actors Matt Damon and Jessica Chastain on "The Martian." Mara has also acted alongside Kevin Spacey, Robin Wright, Mahershala Ali, and Joel Kinnaman on "House of Cards," and with Jamie Bell and Miles Teller on "Fantastic Four."
In addition to her work in the entertainment industry, Mara is also an advocate for animals and animal non-profit organizations. She has been a supporter of the Humane Society of the United States and has worked with the organization to promote animal welfare and raise awareness about the treatment of animals in the entertainment industry.