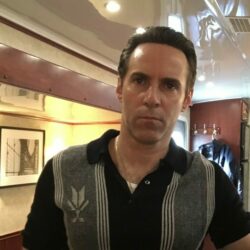 Birthday
June 28, 1972 (50)
Alessandro Nivola is an American actor and producer who has built a distinguished career in film, television, and theater. Over the course of his career, Nivola has established himself as a versatile actor capable of playing a wide range of characters, from sensitive intellectuals to tough-talking gangsters. His breakout roles include "Face/Off" (1997), "Jurassic Park III" (2001), and "American Hustle" (2013).
Nivola has received critical acclaim for his work on stage, including his performance in the Broadway revival of "The Elephant Man" (2002), for which he earned a Tony Award nomination. He has also appeared in several other productions, including "The Winslow Boy" (1999), "The Cherry Orchard" (2006), and "The Father" (2021).
One of the most significant milestones in Nivola's career was his role in the HBO drama series "The Sopranos" (2000-2007), in which he played the character of Richie Aprile. The series was widely regarded as one of the greatest television dramas of all time, and Nivola's portrayal of Aprile was praised for its intensity and complexity.
Nivola has worked with several notable celebrities and artists throughout his career, including Nicole Kidman, Jude Law, Emily Blunt, Cate Blanchett, and Julianne Moore. He also collaborated with director David Fincher on "Gone Girl" (2014), which was one of the most successful films of the year.