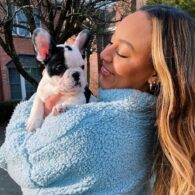 Tank
Nia Sioux adopted a dog named Tank in March 2021. She shared the news with her fans on YouTube.
Nia Sioux, an American dancer, YouTuber and content creator. She who rose to fame through her appearances on the reality television series Dance Moms. Nia's journey in the entertainment industry began at the age of 10 when she made her debut on Dance Moms. Nia's mother, Holly Hatcher-Frazier, played an active role in supporting her daughter's growing dance career.
Beyond her dance accomplishments, Nia has also ventured into the world of music. In 2015, she released her first single, "Star In Your Own Life." which resonated with her fans. Her music videos, including "Star In Your Own Life" and "Slay," garnered significant attention on YouTube. In 2016, she made her Off-Broadway debut in a New York City production of "Trip of Love." Additionally, Nia has ventured into acting, taking on roles such as Emma Barber on the TV series The Bold and the Beautiful and Sonitas in the film The Code.
Nia has formed close bonds with her fellow Dance Moms star Madison Ziegler and worked with fellow YouTuber's Sky Katz, Anna Cathcart and Ruth Righi.