 Herbert (Dog)
Actor Asia Kate Dillion has a dog named Herbert that's a Poodle-Beagle-Terrier mix. Herbert's nickname is Buddy. Below is an excerpt from an June 2019 interview Dillion did with The Cut when asked about her dog:
We're talking about their dog, a 20-pound poodle-beagle-terrier mix named Herbert, when I tentatively ask where the actor adopted him.

"My dog, I just call Herbert or buddy," Dillon amiably corrects me, after telling me Herbert came from Craigslist. "I do think it's fascinating though that primarily the first question when one asks about Herbert is, is Herbert a boy or a girl? As if the context is needed for them to understand something greater about the dog."

That Dillon has both carefully considered the dog's gender identity and is explaining it to a complete stranger shouldn't exactly come as a surprise, since they're arguably Hollywood's most famous nonbinary actor, one whose star turn came on an unlikely television series: Showtime's aggressively macho financial drama Billions, in which Dillon plays intern savant Taylor Mason. Taylor introduces themselves to their hedge fund manager boss with "my pronouns are they, theirs, and them" — a sentence that may be commonplace in college classrooms but is rarely, if ever, uttered in Wall Street boardrooms. Dillon also plays a nonbinary (though less explicitly so) villain "The Adjudicator" in the third installment of John Wick action franchise.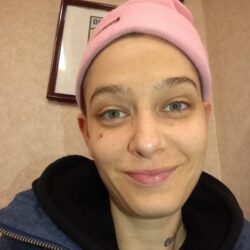 Birthday
November 15, 1984 (39)
Asia Kate Dillon is an American actor best known for their roles in Orange is the New Black, Billions, John Wick: Chapter 3 – Parabellum, and The Walking Dead. They are an advocate for the LGBTQ+ community and are gender non-binary, using 'they' pronouns.
Dillon began their acting career in 2014 with a small role in an episode of the TV series, Person of Interest. In 2016 they were cast in Netflix's hit series, Orange is the New Black, as inmate Brandy Epps. In 2017 they were cast in the TV series Billions, starring alongside Paul Giamatti and Damian Lewis. Dillon played the role of Taylor Mason, the first gender non-binary character in a major television series. They have also featured in the films John Wick: Chapter 3 – Parabellum and The Walking Dead. Dillon has worked with a number of actors, including Hugh Dancy, Christina Hendricks, and Keanu Reeves.
RELATED: Dogs of John Wick – The Definitive Guide to The Dogs of the Films and Cast