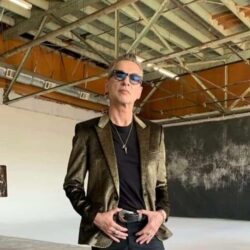 Birthday
May 9, 1962 (60)
Dave Gahan is a musician, songwriter, and lead singer of the iconic British band, Depeche Mode along with founding member Martin Gore. He has had a long and successful career in the music industry, both as a member of Depeche Mode and as a solo artist. He showed an early interest in music and joined his first band, No Romance in China, in the early 1980s. However, it was his role as the lead singer of Depeche Mode that would bring him worldwide fame and success.
Depeche Mode was formed in 1980 and quickly became one of the most influential bands of the 1980s and 1990s. Gahan's powerful vocals and stage presence helped to define the band's sound and image, and his songwriting contributions played a crucial role in the band's success. Some of Depeche Mode's most popular songs, such as "Personal Jesus," "Enjoy the Silence," and "Policy of Truth," feature Gahan's distinctive vocals.
In addition to his work with Depeche Mode, Gahan has also released several solo albums. His solo work has allowed him to explore different styles of music and showcase his talents as a songwriter and performer. His solo albums include "Paper Monsters" (2003), "Hourglass" (2007), and "Angels & Ghosts" (2015), the latter being a collaboration with electronic musician Soulsavers.
He worked with electronic music pioneer Vince Clarke on the project VCMG, releasing the album "Ssss" in 2012. Gahan has also collaborated with electronic music legend Goldfrapp on the song "Ocean" and appeared on the track "Where I Wait" by Italian DJ and producer Giorgio Moroder. One notable collaboration was with American electronic musician and producer, Jimmy Edgar, on the song "King of the Castle" from Edgar's 2018 album "CHEETAH BEND". Gahan has also worked with American DJ and producer, Mark Ronson, on the track "Somebody to Love Me" from Ronson's 2010 album "Record Collection". Gahan has performed live with Dave Grohl of the American rock band, Foo Fighters, several times over the years, including a performance at the 2013 Global Citizen Festival in New York City.