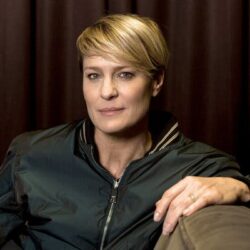 Birthday
April 8, 1966 (56)
Robin Wright is an American actress and director. She has won a Golden Globe Award and a Satellite Award, and has received eleven Emmy Award nominations for her work in television.
Wright starred as Claire Underwood in the Netflix political drama streaming television series House of Cards, for which she won the Golden Globe Award for Best Actress in 2013, becoming the first actress to win a Golden Globe for a streaming television series. Wright has received six Primetime Emmy Award nominations in the Outstanding Lead Actress category for House of Cards (one for each season), and two nominations in the Outstanding Drama Series category in 2016 and 2017 as a producer on the show.
Wright is one of the highest paid actresses in the United States, earning US$420,000 per episode for her role in House of Cards in 2016.