 Bombom
Brazilian soccer star Ronaldinho Gaúcho wrote a "Letter To My Younger Self" for Derek Jeter's "The Players' Tribune" where he shared how his dog Bombom helped him hone his soccer skills while growing up in a rough neighborhood in Porto Alegre. He encouraged himself to always take Bombom along, who was a tireless defender and great practice for dribbling and skills. Ronaldinho also reminisced that years later, when he was playing in Europe, some defenders reminded him of Bombom.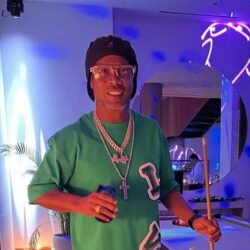 Birthday
March 21, 1980 (43)
Ronaldinho Gaúcho, born Ronaldo de Assis Moreira, is a former Brazilian professional footballer who is regarded as one of the greatest players of his generation. He was born on March 21, 1980, in Porto Alegre, Brazil, and started his professional career with Grêmio in 1998.
Ronaldinho's breakout role came when he joined Paris Saint-Germain in 2001, where he quickly became a fan favorite with his dazzling skills and creativity on the pitch. He later moved on to play for FC Barcelona, where he won two La Liga titles and the prestigious UEFA Champions League trophy in the 2005-06 season. He also had successful stints with AC Milan and Flamengo before retiring from professional football in 2018.
Throughout his career, Ronaldinho was recognized for his exceptional talent and was awarded several prestigious accolades, including the FIFA World Player of the Year award in 2004 and 2005, the Ballon d'Or in 2005, and the UEFA Club Footballer of the Year in 2006. He also won two Copa America titles and the FIFA World Cup with Brazil in 2002.
One of the milestone moments in Ronaldinho's career was his famous goal against England in the quarter-finals of the 2002 World Cup. He received a long ball from Rivaldo, controlled it on his chest, and then lobbed it over England's goalkeeper with a skillful flick of his right foot, showcasing his incredible talent and creativity.
Ronaldinho has collaborated with several artists, celebrities, and influential people throughout his career. He has worked with rapper Pitbull on the song "Free Free Free" and appeared in the music video for "La La La (Brazil 2014)" by Shakira. He has also worked with fellow footballer Lionel Messi on several occasions and had a close friendship with retired NBA player Kobe Bryant, who once said that Ronaldinho was his favorite footballer to watch.