 No Pets (Mike Dimes)
Mike Dimes does not have any reported pets.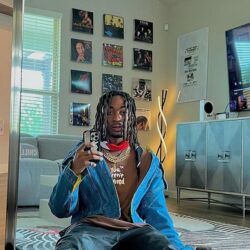 Birthday
June 18, 2001 (22)
Mike Dimes is an American rapper and singer hailing from San Antonio, Texas, best known for his viral single "My Story," which gained immense popularity on TikTok.
Breaking into the music scene in 2021, Mike Dimes caught the attention of millions with his single "My Story," a song that amassed around 2 billion views on TikTok. This led to the release of his debut mixtape, DLOG, in May of that same year. Not slowing down, Mike Dimes built upon his initial success by releasing two studio albums: "In Dimes We Trust," released on March 8, 2022, and "Texas Boy," unveiled on June 16, 2023. Both albums were self-released and available through digital download and streaming platforms.
Throughout his still-burgeoning career, Mike Dimes has been savvy about collaborations, aligning himself with artists and celebrities that add unique flavors to his tracks. He remixed his hit single "Home" with a feature from rapper JID. He also contributed to American rapper Jeleel's single "Clubhouse." Notably, his influences range from A$AP Rocky to Joey Badass.
A true testament to his skills and growing influence, Spotify handpicked him as one of the 10 Most Necessary Artists to Watch in 2022.