 No Pets (Lil Mabu)
Lil Mabu does not have any reported pets.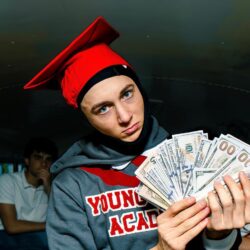 Birthday
April 4, 2005 (18)
Matthew DeLuca, better known by his stage name Lil Mabu, is an American rapper based in Manhattan, New York. He started his rap career in 2019 and quickly gained traction with the release of his song "Miss Me" in 2020. His debut mixtape, "Double M's," was released on June 30, 2022, marking a significant milestone in his career. Lil Mabu's music is characterized by its incorporation of hip hop, trap, and Brooklyn drill genres, reflecting his diverse musical influences and styles.
Lil Mabu's career has been marked by a series of popular songs and collaborations. In 2022, his song "No Snitching," a collaboration with Dusty Locane, became increasingly popular on the social media app TikTok. He also released a song titled "Throw" featuring New York Drill Rapper DD Osama, which was the number one trending music video on YouTube for a week at the time of its release. In May 2023, Mabu released the song "Mathematical Disrespect," which charted in the US, UK, and Ireland, becoming his first entry on any worldwide major music chart. His other notable works include "Rich Scholar" and "At What Cost?"
Collaboration has been a cornerstone of Lil Mabu's career. He has worked with a variety of artists, including PnB Rock, Ej Banks, Howiee OO, Chrisean Rock, ZayBinSteppin, Kay Flock, Dougie B, DThang, and DD Osama. His collaborative track "Mr. Take Ya B*tch" with Chrisean Rock, a diss track aimed at Blueface and Wack 100, showcases his ability to engage in different facets of the rap genre.