 No Pets (Vic Fuentes)
Vic Fuentes does not have any reported pets.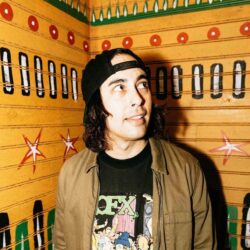 Birthday
February 10, 1983 (40)
Vic Fuentes, the American singer-songwriter, established himself as a significant figure in the alternative music scene as the lead vocalist and guitarist for the post-hardcore band Pierce the Veil.
Fuentes' musical journey unfolded alongside Pierce the Veil, with the band's first album, "A Flair for the Dramatic," acting as a pivotal launchpad for his career in 2007. The tracks "Yeah Boy and Doll Face" and "Chemical Kids and Mechanical Brides" were met with overwhelming enthusiasm by fans and critics alike, marking the beginning of Fuentes' rise in the industry. His songwriting, a skill he honed to perfection, and his ability to convey deep emotions through his lyrics and vocals were further showcased in the band's later albums, including "Selfish Machines," "Collide with the Sky," and "Misadventures."
Fuentes' career has been enriched by numerous collaborations with other artists, significantly contributing to his musical evolution. Collaborators have included Kellin Quinn of Sleeping With Sirens in the track "King for a Day," and Jeremy McKinnon of A Day to Remember in "Caraphernelia," both of which featured on the album "Collide with the Sky." Other notable collaborations include Jason Aalon Butler on "Tangled in the Great Escape," and Machine Gun Kelly on "Besitos." Moreover, his ability to harmonize with diverse artists was further evident in his collaborations with Aiden's WiL Francis in "Chemical Kids and Mechanical Brides," Jenna McDougall in "Hold On Till May," and Juliet Simms in "Million Dollar Houses." Additionally, Fuentes has worked alongside Dave Yaden in "I'm Low on Gas and You Need a Jacket," and Lindsay Stamey in "Kissing in Cars."
Over the years, Fuentes has been recognized for his musical talent and contributions to the industry. Notably, Pierce the Veil received the "Best Music Video" award for "King for a Day" at the 2012 Kerrang! Awards, with Fuentes sharing the honor. Further cementing his musical legacy, Fuentes and his band were awarded "Album of the Year" for "Misadventures" at the 2016 Alternative Press Music Awards. Fuentes' songwriting skills were also acknowledged when the band won "Song of the Year" for "Circles" at the same event.
Beyond his music, Fuentes has shown a strong affinity for animal welfare. In 2015, he took part in the Society's annual charity event, the Walk for Animals, in support of their mission to prevent animal cruelty. Fuentes' actions, both in and out of the music industry, paint the portrait of a compassionate individual dedicated not only to his craft but also to making the world a better place.