 No Pets (Kellin Quinn)
Kellin Quinn does not have any reported pets.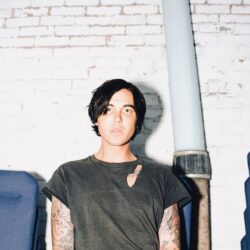 Birthday
April 24, 1986 (37)
Kellin Quinn is an American singer and songwriter, best known as the lead vocalist of the rock band Sleeping With Sirens.
From melodious undertones to powerful ballads, Kellin Quinn has graced the music world with hits that have captured the hearts of many. Since his emergence with Sleeping With Sirens, they have released albums that became anthems for fans worldwide, including 'Let's Cheers to This' and 'Feel'. These albums gave birth to songs like "If I'm James Dean, You're Audrey Hepburn" and "Legends," which are just the tip of the iceberg when it comes to his prolific output. His unique voice, combined with the band's energetic performances, has made them one of the defining bands in the post-hardcore genre.
Collaboration is the spice of music, and Kellin Quinn has not been shy about blending flavors. His synergies with other artists are as eclectic as they are powerful. Among his notable collaborators are Vic Fuentes in the joint track "King for a Day", Machine Gun Kelly (MGK) in "Swing Life Away", and Aaron Marsh of Copeland on "A Trophy Father's Trophy Son". He's also harmonized with members like Joel Madden of Good Charlotte, Deryck Whibley of Sum 41, and Derek DiScanio of State Champs.
Throughout his career, Kellin Quinn has received numerous distinctions for his musical artistry. In 2013, Sleeping With Sirens won the Song of the Year award at the Alternative Press Music Awards for "If I'm James Dean, You're Audrey Hepburn." The same year, the band took home the Artist of the Year title.