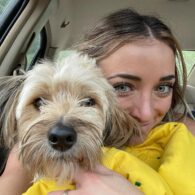 Finn McKnight
Brooklyn McKnight rescued a Doodle named Finn McKnight in November 2019. She announced the adoption from a rescue shelter in Dallas called Doodle Rock Rescue for her fans on their YouTube Channel.
Brooklyn McKnight is an American YouTube personality, content creator, and social media influencer. Born in Michigan, Brooklyn is the elder sister of Bailey McKnight. The siblings rose to fame with their YouTube channel, "Brooklyn and Bailey," which they started in 2013. The channel features a variety of content, including lifestyle vlogs, beauty and fashion tips, and challenges. They also create content with their mom Mindy McKnight and sister Kamri Noel Mcknight.
As of 2023, "Brooklyn and Bailey" has amassed over 8 million subscribers and has become one of the most popular channels on YouTube. In addition to their YouTube channel, Brooklyn and Bailey have also ventured into music and released several singles, including "Dance Like Me" and "Simple Things."
Throughout her career, Brooklyn McKnight has collaborated with several other YouTube content creators and celebrities. She has worked with fellow YouTubers such as Aspyn Ovard and Niki and Gabi, and has been a guest on "The Ellen DeGeneres Show" and "The Kelly Clarkson Show." Additionally, Brooklyn and Bailey have gone on tour across the United States and have performed live shows for their fans.