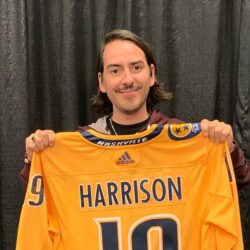 Birthday
August 1, 1978 (45)
Dhani Harrison is a British musician and songwriter, known for continuing the legacy of his father, George Harrison, while forging his own path in the music industry. He stepped into the limelight with his involvement in the band thenewno2, which released its debut album, "You Are Here," in 2008.
Branching beyond the realm of thenewno2, Dhani Harrison's works expanded into film and television scoring, embodying his multi-faceted musical aptitude. His notable scoring projects include the films "Beautiful Creatures" (2013) and "Learning to Drive" (2014), as well as the television series "Good Girls Revolt" (2015-2016).
Dhani has worked with a plethora of artists and personalities, signifying his broad musical spectrum. Noteworthy collaborations include working with Jeff Lynne and Tom Petty on completing his father's posthumous album "Brainwashed," engaging with Eric Clapton on multiple occasions, and joining forces with Ben Harper to form the band Fistful of Mercy. Additionally, he has collaborated with Weird Al Yankovic, RZA, Regina Spektor, Pearl Jam's Eddie Vedder, Prince, Jon Brion, and Steven Tyler, weaving a rich tapestry of musical connections that underscore his active engagement within the artist community.
Dhani Harrison's commitment to his craft has also been recognized through various honors. His work in completing "Brainwashed" alongside Jeff Lynne and its subsequent Grammy Award nomination for Best Pop Instrumental Performance in 2004 is a testament to his musical finesse.