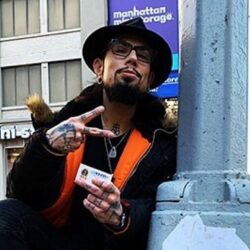 Birthday
June 7, 1967 (55)
Dave Navarro is an American musician, songwriter, and actor. He rose to fame as the guitarist for the alternative rock band Jane's Addiction, which formed in the mid-1980s and went on to become one of the most influential bands of the decade.
In addition to his work with Jane's Addiction, Navarro has collaborated with numerous other artists and bands, including Anthony Kiedis of Red Hot Chili Peppers, Trent Reznor of Nine Inch Nails, Alanis Morissette, and Axl Rose of Guns N' Roses. He has also released several solo albums. Navarro's work has been recognized with numerous awards, including a Grammy Award for Best Hard Rock Performance in 1995.
Beyond his music career, Navarro has also made significant contributions to the world of television and film. He has appeared in several movies and TV shows, including the hit TV series "Sons of Anarchy" where he worked alongside Charlie Hunnam and Katey Sagal, and "Law & Order: Special Victims Unit." He has also hosted several reality TV shows, including "Rock Star: INXS" and "Ink Master," demonstrating his versatility and ability to connect with audiences across various genres.