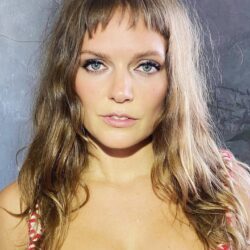 Birthday
October 29, 1987 (35)
Ebba Tove Elsa Nilsson, known professionally as Tove Lo, is a Swedish singer, songwriter, and actress who has been called "Sweden's darkest pop export" by Rolling Stone. She is known for her raw, grunge-influenced take on pop music. Her honest, complex and autobiographical lyrical content has led to her being dubbed "the saddest girl in Sweden".
Rising to fame with her debut album, "Queen of the Clouds," she managed to captivate audiences with hits like "Talking Body" and "Moments." Her subsequent albums, "Lady Wood," "Blue Lips," and "Sunshine Kitty," further solidified her standing in the realm of electropop, offering listeners a blend of grit, vulnerability, and synth-heavy production.
In addition to her solo work, Lo has co-written songs for other artists, including: Lorde's "Homemade Dynamite" (2017) and Ellie Goulding's "Love Me like You Do" (2015), a song that garnered her Grammy Award and Golden Globe nominations. Her collaborations also expand to other industries and countries. Among them are Nick Jonas, with whom she collaborated on the song "Close," and Alesso, resulting in the hit "Heroes (We Could Be)." Other notable collaborations include Ava Max, Flume ("Say It"), Wiz Khalifa ("Influence"), Urban Cone ("Come Back to Me"), and Seven Lions, SLANDER & Dabin ("First Time"). She's also teamed up with Charli XCX on "Out of My Head," Lorde and Ellie Goulding for the "Hunger Games: Mockingjay, Part 1" soundtrack, ALMA on "Bad As the Boys," and Kylie Minogue on "Really Don't Like U."
Tove Lo has been the recipient of several noteworthy honors, underscoring her impact in the music industry. She was nominated for Grammy Awards for "Talking Body" and "Habits (Stay High)," and won the Swedish Grammis Award for Song of the Year in 2015 with "Stay High." Moreover, she was named the Swedish Songwriter of the Year by the Swedish Music Publishers Association (SMFF) in 2015.