 No Pets (Barbara Dunkelman)
Barbara Dunkelman does not have any reported pets.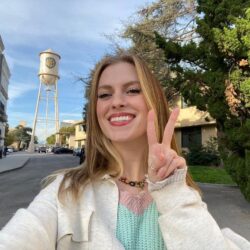 Birthday
July 2, 1989 (34)
Barbara Dunkelman is a Canadian actress and internet personality primarily known for her work with Rooster Teeth, an American media and entertainment company. She is most recognized for voicing Yang Xiao Long in the animated series "RWBY," as well as being a key player in Rooster Teeth productions such as "Red vs. Blue" and the movie "Lazer Team."
Dunkelman has participated in a range of content including films, animated shows, and web series. Her voice work extends to multiple animated series like "RWBY," "X-Ray and Vav," and "Red vs. Blue." Her contributions to Rooster Teeth's live-action shows include roles in "Day 5" and "Ten Little Roosters," and she was also a part of the main cast for the movie "Lazer Team." Additionally, Dunkelman has hosted "Always Open," a podcast focused on intimate discussions around various topics.
She has an extensive history of collaborating with other notable figures within the entertainment industry. These collaborations span across multiple mediums and include work with Geoff Ramsey, Gus Sorola, Matt Hullum, Burnie Burns, Gavin Free, Michael Jones, Lindsay Jones, Arryn Zech, Kara Eberle, and Miles Luna. Many of these collaborations have been within the framework of Rooster Teeth productions, highlighting her long-standing association with the company.
Dunkelman's work has not gone unnoticed. She was nominated for a BTVA Voice Acting Award in 2014 for her role in "RWBY." She has also earned titles for her influential presence on social media platforms, including being a featured guest at multiple fan conventions.